You can follow our decision tree to help with the choice process, or use our Paver Finder quiz, but let's explore some points you should keep in mind as you start to investigate the best paver style for your project.
What kind of stone project are you doing?
The first thing you should consider when deciding on a paving stone is the type of project you are doing. 
Driveway
Will you be laying an entire driveway? If so, you should use either permeable pavers or regular paving stones.
Walkway
Are you installing a path or walkway? Larger slabs are the right thing for you. If you are making a new patio, you can use permeable pavers, paving stones, or slabs. 
Fire Pit or Fireplace
You can build your firepit or fireplace with any selection of pavers. Or, if you want the perfect fire pit, you can use one of our pre-made Fire Pit or Fireplace Kits.
Wall or Colum
If you are building a wall, you need to implement a retaining wall block.
What texture do you want?
The texture of the pavers you choose will have a big impact on the final look you achieve. You should think through what you want the completed look to be as you decide which product to purchase.
Sleek and modern
Do you like a classy or sleek and modern paver? Our Leiden or La Pietra™ products are smooth in texture, and bring a timeless look to any space.
Cobbled
If you are drawn to the look and feel of ancient European streets, try our cobbled stones—Camino or Cobble Park & Plaza. They are a smooth and old-fashioned paver.
Textured
If you gravitate toward the iconic rugged aesthetic of the Pacific Northwest, you might want to try one of our most textured pavers. The Alpine Stone™ or the Granite Stone will bring the feeling of mountain peaks and dark green forests to your yard.
Rustic Design
If a rustic style is more your thing, try one of our products with a rustic finish. Our Roca Camino and Roca Park & Plaza stones are individually tumbled and inspected. The resulting rough, aged look pairs perfectly with Tuscan, coastal, cottage, or lodge styles.
What size of paver do you want?
Another major factor in your decision will be the size of the paver you want—small, medium, or large.
Small
If you need a small paver, Holland, Arena, Park & Plaza, or Camino stones will be your best options. They can make beautiful borders or intricate patterns in your home patio.
Medium
Our main medium-sized pavers are Leiden, Alpine Stone™, and Granite Stone™. These are classics that go well in backyard patios or front sidewalk.
Large pavers
Our large pavers are La Lastra™ and La Pietra™ Moderna. The larger pavers are especially beneficial for more quickly and easily covering areas with greater square footage.
What color paver do you want?
The final deciding point is your personal color preference. Our pavers have several different color options, giving you flexibility and variety when making your final decision.
Dark grey
Depending on what you pair it with, a dark grey stone can easily be either rustic or modern. We carry pavers in solid dark grey, such as our Charcoal color, and grey blended with other colors, such as our Jamestown Blend.
Light grey
Light grey pavers bring a clean and sharp look to any space, blending in well with solid concrete or contrasting pavers. Pewter is our primary light grey color, but we also have blends that include light grey.
Red
Red is a striking color to use in any space. It can be left by itself to make a bold statement or toned down by interlaying it with another color, such as tan or grey. Boston is our red stone with a slight grey variation, and Britewood Blend is a pattern combining red, tan, and dark grey.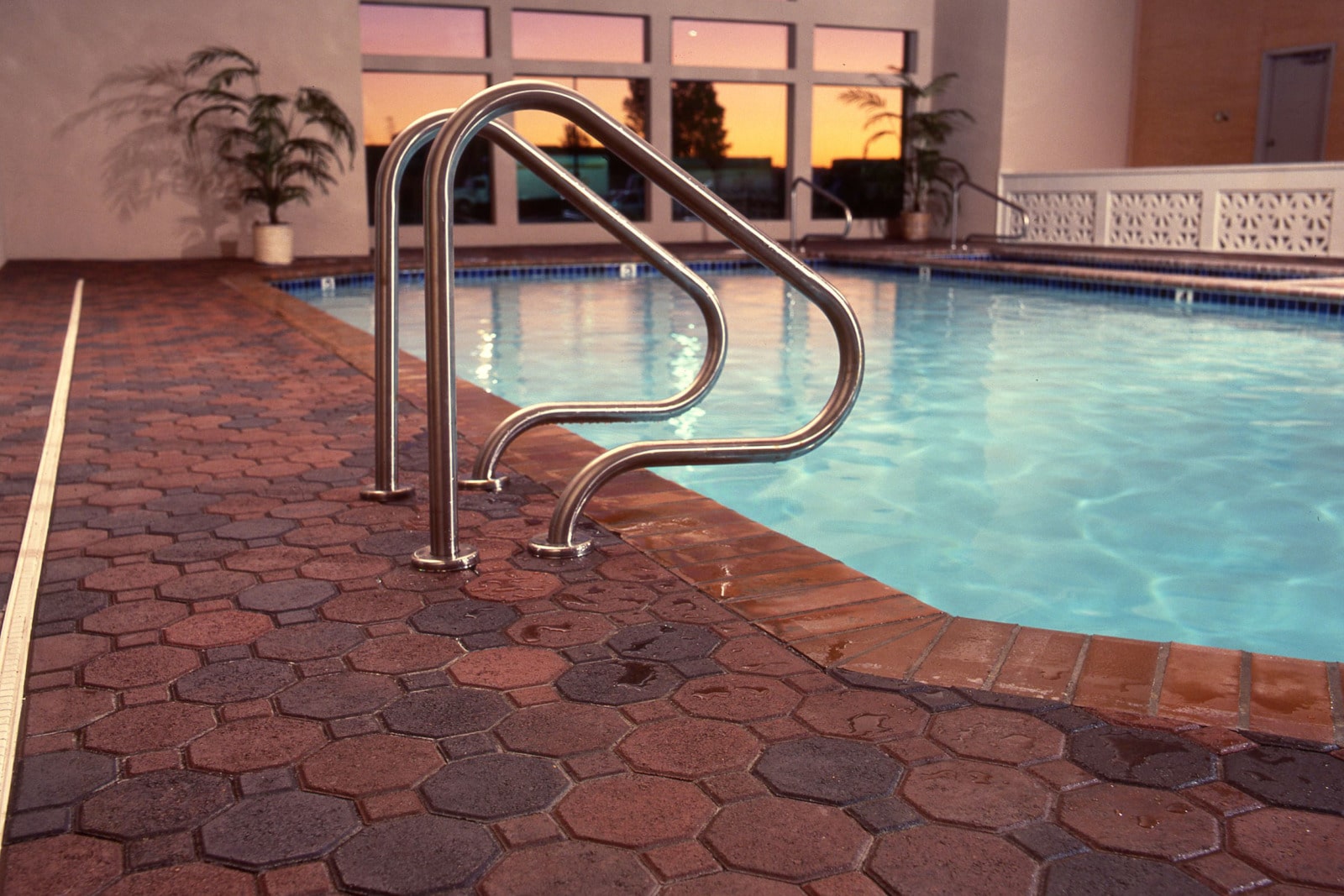 Tan
Ever the classic, tan can be reminiscent of the desert or simply a basic, reassuring paver color. We carry a solid tan called Desert Tan and some tan blends, such as our Umbria Blend.
Brown
Brown is earthy and understated, a color that is almost always ideal for Pacific Northwest landscapes. We have a dark brown solid color called Willamette and also some brown blends, such as our Boston Blend.
Take our quiz to find your style
Check out our Paver Finder quiz (an interactive decision-making guide) to find what paver style is best for you. You can also contact our design team for a free design consultation at (503) 623-9084.