There are so many factors to consider when choosing a color that it can feel crippling. Should they match my house? Will they clash with my sidewalk? Does it matter which colors of shrubbery I have in my landscape? Let's be honest. Color is difficult to choose! That's why so many people settle for plain old concrete. It doesn't have to be that way. 
Everyone knows that making decisions is much easier with a framework. That's why, in this article, we've put together a simple framework to help you choose the right paver color for your hardscape.
Four factors to consider when choosing paver colors
You want to showcase a stunning hardscape that looks well done and will last for years to come. In this guide, we'll cover five factors to consider—and by the end of this article, you should have a clear path forward.
1. Function over fashion
The first framework factor to consider is what you're hardscaping. Is it a pool deck or a garden patio? A driveway or walkway? A few steps or a full retaining wall?
The reason we ask is that not all color design decisions are for fashion. Many are for function. For example, if you're looking to install a pool deck, you'll want to stay away from dark colors, so you don't burn your feet. However, if you're installing a driveway, dark colors could look stunning.
2. Change your landscape to match your hardscape
The second factor is, are you planning to change anything about your home or landscape? If you're preparing for a remodel, new roof, or new siding, that will affect the color of your hardscape.
What we're doing here is changing how you think about choosing a color. Our sales team works with thousands of customers each year. Sometimes, thinking about the same thing in a new way is all that's needed to trigger a breakthrough.
Instead of trying to match your hardscape to your existing landscape, what if you choose your favorite hardscape, and changed your landscape accordingly? It might mean adding a flower garden or removing a patch of sod. It might mean you plant a flowering shrub or re-paint your deck. It's totally up to you, but if you like a specific color of hardscape, consider what you could change about your landscape.
3. Raise the roof
When it comes to hardscape, we like to think of the roof of your home as an anchor. Just as an anchor secures a ship, your roof grounds the colors of your landscape.
That's why, sometimes, choosing your hardscape colors can be as easy as matching to your roof. If your roof light-colored, consider a lighter shade of hardscape, If your roof is dark or black, consider a charcoal hardscape.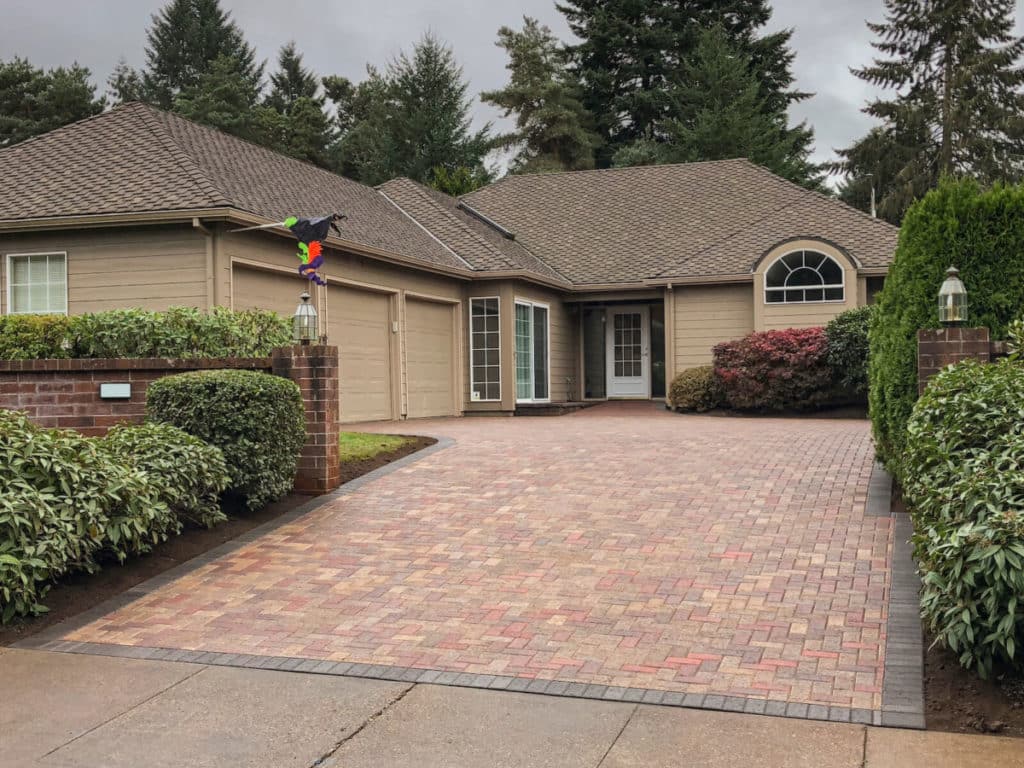 When you match pavers to your roof color, you create contrast between your roof and your landscape. Our eyes are addicted to contrast. Consider the bright sand on a beach against the darkness of the sea. You know how beautiful a bold red barn looks with bright white trim.
Use the power of contrast to raise the roof and bring in a stunning color of hardscape.
4. Perfect match or beautiful blend
Rest assured that the stone colors don't need to match your landscape exactly. But they do need to blend in. That's why it's worth considering if you want an exact match or a blend.
For example, military camouflage is not meant to match the landscape. If it did, the enemy would find every soldier because it's impossible to match the scenery around you at all times perfectly. Instead, a soldier's uniform is designed to blend in with the landscape around them. In the same way, there are two different ways to approach your hardscape color. Do you want it to match or blend in with the existing landscape?
Many of our customers are building new, modern homes in urban areas. The architecture of their home is sleek, and the landscape has minimal color variation. Most of the time, all they want is a pure grey rock bedding with a few strategically placed green plants. In this type of context, it would make sense to match pavers with the bold, clean style.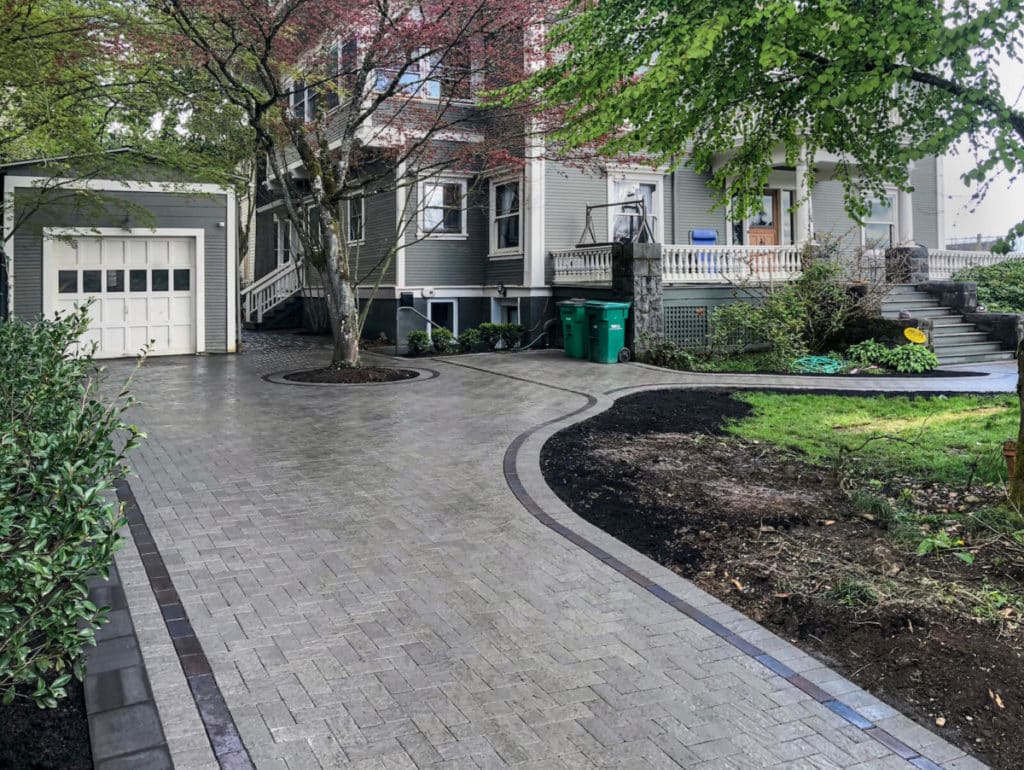 On the other hand, we also have many customers who live in rural areas with a diverse landscape. They have fruit trees in the front yard, and their house isn't perfect. Trying to match hardscape to the landscape would be nearly an impossible task. Even if you did try to match perfectly, it would likely look out of place. In this context, it would make sense to choose a beautiful blend of paving stones that highlight the character of the property.
Three done-for-you color blending strategies
When it comes to matching and blending, you have a few good options. None of these options are complicated, yet they make a big difference in visual appearance.
1. Install beautiful borders
First, you could install borders (like you see in the driveway above) to bring in extra contrast or color that will immediately make your hardscape feel intricate. A simple border can go a long way.
2. Accent your hardscape
Second, you could accent certain parts of your hardscape. For example, instead of plopping down a welcome mat at your front door, lay a stone mat accent. Or, lay different colors for different play areas on your back patio. If you set aside 20 minutes to brainstorm a few ideas, you'll end up with more than you can count.
3. Create a custom blend
Lastly, take it upon yourself to create a custom blend. The general rule with blends is to either match or contrast. For example, matching Cambridge and Jamestown will bring tan and gray tones together. Matching Boston and Jamestown together looks like old brick colors. On the other hand, contrasting City Square Charcoal and Desert Tan colors will create a unique blend between the tan and grey.
We hope this framework has been helpful as you develop your hardscape project. If you need help choosing the color of your hardscape or, if you have any questions about hardscape in general, call our design guides at 503-623-9084, and they'll be happy to help.
Hardscape is beautiful
When it comes to choosing the types or colors of your hardscape, don't sweat it too much. All hardscape is gorgeous, and any decision is a great one. That may sound trite, but it's true. Once you begin installing your hardscape, you'll know what we mean. Even a simple Cobble Rotundo Stone Patio in the middle of a garden looks stunning once it's been installed.

Want to learn more about how hardscape your property? Join one of our upcoming seminars or give us a call at 503-623-9084.