Are you getting ready to install hardscape in your yard or on your property? If so, you likely have a few questions about paver edging. What kind of edging do you need? What are the benefits?
In this article, we'll answer 10 of the most common questions about paver edging.
1. What is paver edging?
The material usually used to create a border around your hardscape is known as paver edging. While some edging is more beautiful than other types of edging, it is possible for it to be both attractive and highly functional.
Paver edging is also sometimes called edge restraint, paver restraint, border, or concrete toe. (Concrete toe specifically refers to an edging made of concrete.)
2. Why do I need paver edging?
Paver restraint helps ensure that your hardscape stays in place. It prevents pavers from shifting or moving and helps create a sharp and complete look around the edges of your hardscape.
3. How do I install paver edging?
How you install your paver edging depends on what type of edging you choose to implement. It can be installed using different methods, including mortar, adhesive, or spike methods.
The method you should go with depends on the edging you are using and the end result of your project. Make sure you follow the instructions of the edging manufacturer, and read this article for more information about how to install it yourself.
4. What are the different types of paver edging?
Paver edging options typically include variations of concrete, metal, plastic, and stone. Each type has its advantages and disadvantages, so it is crucial that you choose the right type for your project. 
Learn more about the best options in 5 Beautiful Paver Edge Restraint Options.
5. What are the benefits of using paver edging?
Unless you're installing pavers against a foundation, concrete curb, or slab that already exists, you must use paver edging of some kind. The edging will prevent your pavers from moving around, and it will create the clean look that is so necessary for maximum curb appeal. Paver edging will also protect your hardscape from long-term damage.
6. What are the drawbacks of using paver edging?
Unless you incorrectly install your paver edging, there truly are no drawbacks to implementing it in your hardscape. However, it will be difficult to install or remove if you do not use correct methods, so make sure you do your research and choose the right type of edging for your project to avoid damaging your pavers.
7. How much does paver edging cost?
The investment required to install edging for your pavers will depend on the size of your project and the edging type you implement. However, it is usually an affordable option for most homeowners who are already installing hardscape. Keep in mind that the price will increase from plastic to concrete because plastic is cheaper and easier to make than forming concrete is. 
8. Where can I buy paver edging?
Hardscape restraint is available at almost all home improvement stores and online retailers. You should note, however, that if you purchase your pavers from Western Interlock, we can supply you with one of our popular paver edge products such as Snap Edge or PermaEdge.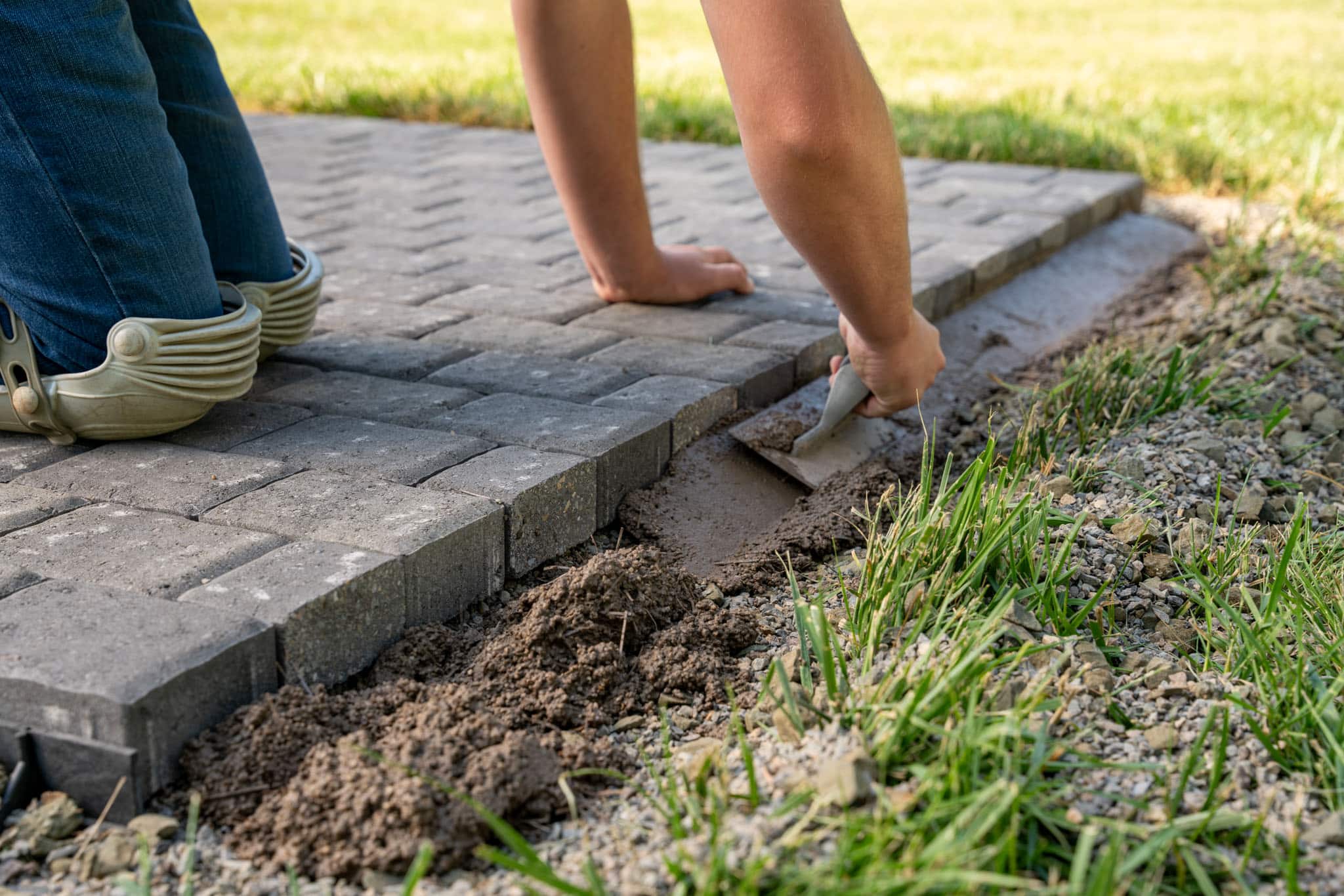 9. How do you secure a paver edge?
If you are using a plastic type of paver edging, we recommend using anchoring spikes (four spikes per 6' section). However, if you are using concrete or PermaEdge, you do not need additional securing methods because it will directly bond with the pavers and aggregates around them.
10. Do you install edging before or after pavers?
Paver edging should be installed after the gravel base and patio both are laid out. The sand should be scraped away—never lay the edge restraint directly on top. Joint sand and compact should be installed after the edging. The only exception to this rule is when installing a bond beam. In that case you should place the paver border directly on top of the concrete so that it will bond with the pavers.
Get help with your design planning
If you're starting on a hardscape project, we have a free guide for you. Download our free Project Planning Guide to get a PDF walkthrough of everything you need to consider as you start the process.