If you have decided that you want to install some type of concrete edge for your pavers, you may wonder what the difference is between concrete curbing and concrete bond beam. Are they really very different from each other? Which one should be used for the type of project you are doing?
Let's take a look at the differences between concrete curbing and concrete bond beams so you can be well informed before you make a decision.
Why is concrete a good choice for edging?
First things first: why should you even consider using concrete as a hardscape edge restraint? Why is it better than some type of plastic edging, a concrete mix, or even some type of metal?
Two main reasons to go with concrete for paver edging are worth noting. The first is simply that some types of concrete edging are significantly cheaper than many of the other options. The second is that both concrete curbing and concrete bond beams are durable and heavy-duty. Concrete is not easily cracked or damaged.  
What is concrete curbing?
Concrete curbing is used on the outside of your pavers to prevent them from shifting. The Interlocking Concrete Pavement Institute recommends concrete curbing for heavy-duty applications, particularly driveways.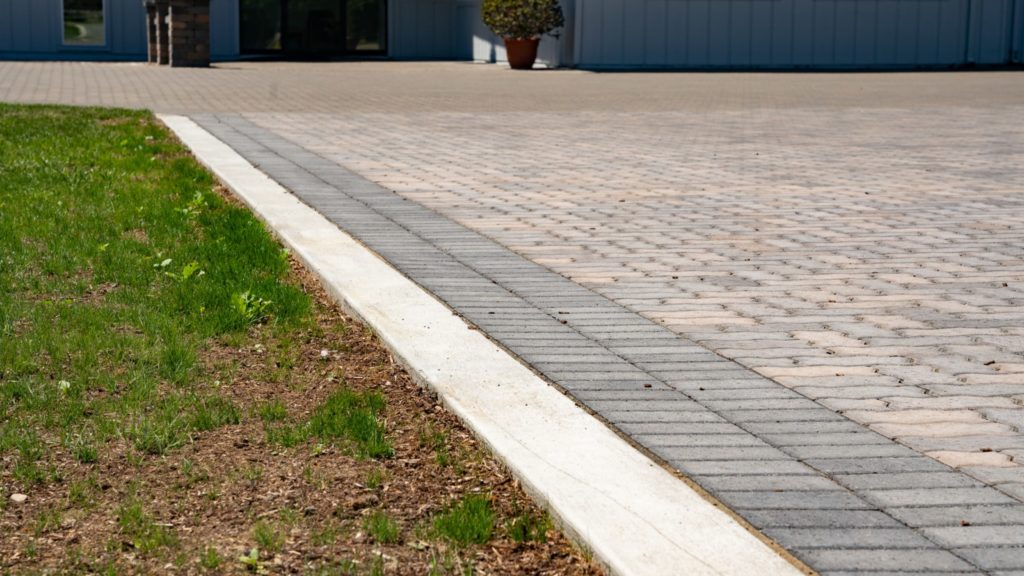 To install concrete curbing, you can have a concrete company come out and pour the concrete for you. Or you may opt to pour the concrete yourself and use a trowel to spread it around the edge so that the finished curb ends one inch below the top of the pavers.
Concrete curbing checks the important boxes for a paver restraint. It is:
Cheap to install
Long lasting
Stable
If you want a restraint for an area that is heavily used, concrete curbing is your best choice. 
What is concrete bond beam?
Concrete bond beam is a structural element with steel beams enclosed in grout or concrete. One significant advantage of using a bond beam for your paver edge is that it will be practically invisible when you are finished installing. Using a concrete bond beam for your hardscape restraint is essentially setting paving stones in a concrete curb.
Like concrete curbing, a concrete bond beam is sturdy and long-lasting. However, it is usually recommended for smaller-scale projects such as backyard patios, or sidewalks and pathways of any type because it can be expensive and time-consuming.
If you're working with a contractor on your project, you might have run across a situation much like this customer, where the concrete bond beam came with a 15-year warranty, whereas the other options were much less. Here's what he said.
I have quotes from two different contractors to install a paver patio. The main difference in price is the edging materials. One contractor is using standard plastic edging; whereas the other contractor is using a concrete bond beam. The contractor with the plastic edging has a 3 yr warranty, and the concrete bond beam contractor has a 15 yr warranty. I live in SW Washington State and our soil is clay (and we get lots of rain). This patio is a very big addition to our home and I don't want to cut corners, but also don't want to throw money away either. Is there really value in the concrete bond beam edging and will it last 5x longer?
Concrete bond beam edging, if done properly, can be very effective especially for soils with expanding clays. If quality installation and longevity are more important to you than price, you will ensure you meet your goals with a concrete bond beam.
Which concrete edge restraint should you choose?
So, how do you know for sure whether a concrete curb or concrete bond beam is better for your project? If you are edging along the paver stones in your backyard, and you want it to be stable and hide the edging then a concrete bond beam is your best option.
However, if you are starting on a more intense project such as a driveway or parking lot, you might consider a concrete curb as it will be stable yet cost-effective—and will be a great fit for your project.
Learn how to install pavers by yourself
We know it can feel intimidating to learn how to do pavers by yourself. Sign up for our free How to Install Patio Pavers training video and learn how to install patio pavers or build any hardscape project such as a patio, driveway, walkway, or any other hardscape.