We'll start with a classic hammer and chisel, and end with a high-tech masonry saw—while covering a handful of other great options in between.
Grab your earplugs because we're about to make some noise. Let's get started.
1. Hammer & Chisel
If you only have a few stones to split and you don't need a perfect cut, a hammer and chisel is your best option. With this option, you don't have to have gasoline, pull out electrical cables, or unreel your garden hose.
To cut a paving stone with a hammer and chisel, you'll need to follow three simple steps. First, mark your stone. Second, score your stone along your marking. Third, place your chisel where you want to split and swing your hammer a few times. The stone should split easily. You might need to chip off extra concrete, depending on the quality of the split.
2. Paving Stone Splitter
Using a paving stone splitter is just as easy as option one, and you can split stones cleaner and faster. This tool is an excellent option if you have more than a handful of stones to split, but you don't need to make any advanced or super-clean cuts.
Using the paving stone splitter is easy. First, you'll mark your stone. Then, you'll place your stone under the blade and pull the lever. Done and done.
3. Circular Saw
If you only need to make a few clean cuts, you can use a standard circular saw with a diamond blade.
You'll also want to make sure that you cut your stone while it's wet, preferably with an open water source pointed directly at the stone while you cut it. The reason for this is that cutting a paving stone dry creates a dense silica dust cloud that's very harmful to your lungs. Not to mention, cutting concrete dry is illegal in many states. Here's what it looks like to cut dry.
However, if you cut wet, you won't experience any harmful silica dust. Here's what it looks like to cut wet.
To cut a paving stone using a circular saw, you're going to follow similar steps as the last two options. First, you'll want to mark your stone. Second, you'll turn on your water source and cut along your mark.
Note: While cutting concrete paving stones with a circular saw is a viable option, circular saws built for cutting concrete paving stones. Know that if you choose this option, you may ruin your blade or your saw.
4. Demolition Saw
A demolition saw (also known as a concrete saw) is for cutting concrete, masonry, brick, asphalt, tile, steel, and other solid materials. The saw blades used on concrete saws are often abrasive diamond blades with teeth.
The demolition saw is a highly portable saw that runs off a gasoline engine. Most of these saws have a garden hose attachment so you can cut pavings stones or retaining wall blocks wet. While the circular saw is similar, the demolition saw is much more abrasive, and you'll end up with a cleaner cut.
5. Tile Saw
A wet tile saw is an electric table saw designed for cutting tile, stone, and concrete. It has a water basin that pumps water over the blade while you cut. The continually moving water reduces debris and dust, plus it cools down the cutting blade.
As you can see below, the tile saw produces an exceptionally smooth cut.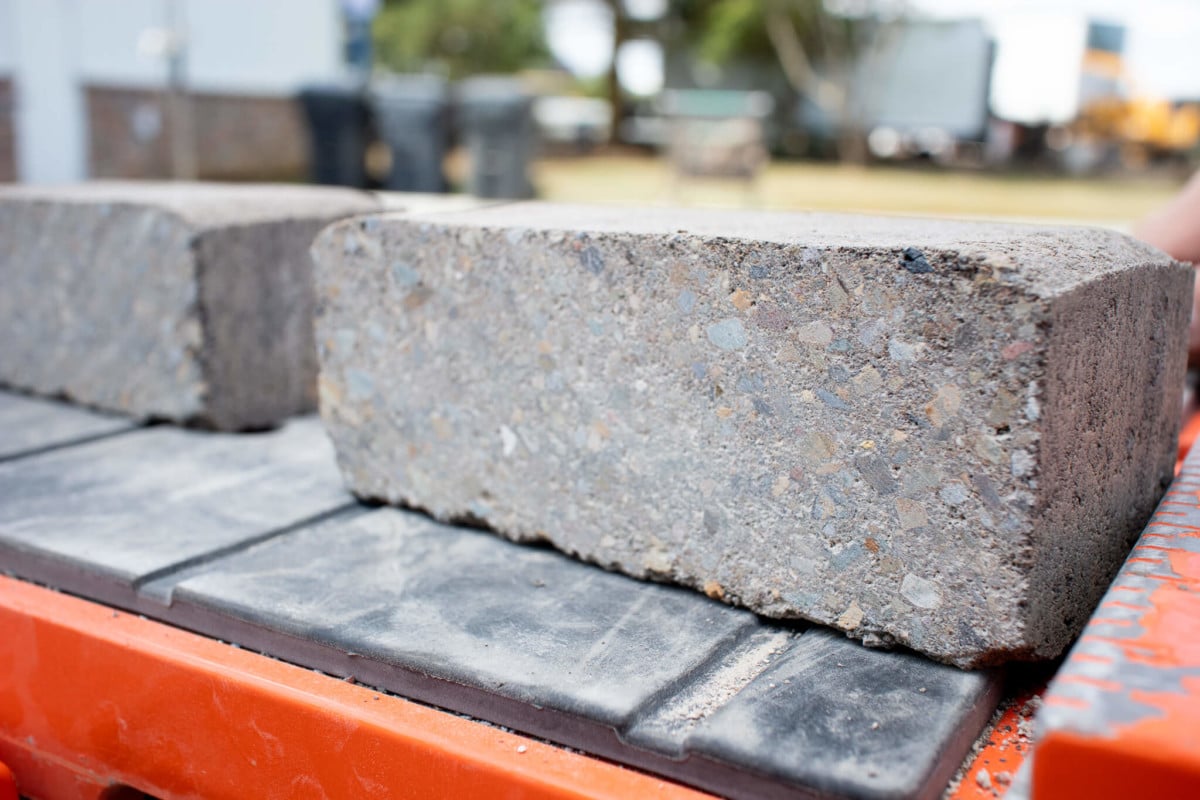 A tile saw is an excellent option for cutting paving stones because it uses a table and has a guided cut, so you're highly unlikely to make a mistake.
6. Masonry Saw
The iQMS362 Dust Control Masonry Saw is best-in-class for clean and easy paving stone cutting. You cut dry as the saw has a built-in vacuum system to capture, filter, and contain 99.5% of the dust (meeting the 2017 OSHA silica standard).
A saw like this is unmatched to the other saws in terms of portability, ease of use, and cleanup. If you have a large, complex paver project where you'll be cutting a significant amount of stones, consider a masonry saw like this—or at least a demolition or tile saw.
However, if you have a small project or only need to cut a few stones, a saw like this might be overkill. In that case, you'll be well served with a hammer and chisel, paving stone splitter, or circular saw.
Hardscape like the pros
Here at Western Interlock, we're on a mission to take the hard out of hardscaping. That's why we publish DIY tips, tricks, and step-by-step tutorials at DIYwithWI.com and host a live DIY seminar every month during the summer at one of our manufacturing or distribution facilities.
If you have any questions, you can visit our Paving Stone Display at our Manufacturing Facility in Rickreall, OR. Or, give us a call our team of hardscape experts at 503-623-9084.