La Lastra ™ is a modern three-piece paving stone family. The flat surface, beveled edge, and elegant proportions of these generously sized slabs are perfect for use in social spaces. The different sizes and modern touch of La Lastra ™ bring a great option to our growing family of paving stones.
You can get La Lastra ™ slabs in three unique colors: Charcoal, Desert Tan, and Pewter. Charcoal is the darkest shade, while Pewter is a lighter grey that looks similar to traditional concrete you'd see on a sidewalk.
Each of these colors come in three dimensions: Small Square (18″x18″), Large Square (24″x24″), and Large Rectangle (24″x18″).
3 Simple Ways to Use La Lastra ™ Slabs
The color combinations and size options give you dozens of practical hardscape applications in your front yard, back yard, walkways, and more. Here are a few common ways our customers have used La Lastra ™ slabs in their hardscape.
Outdoor Patio
Whether your patio space is lengthy or square, La Lastra ™ slabs make it feel large and spacious.
The layout above uses the Stack Bond pattern with a creative twist. See how the owner of this property installed their La Lastra ™ slabs diagonally, displaying a diamond shape that creates an interesting visual effect.
Pool Deck
You can also use the Running Bond pattern for a modern look like this pool deck you see below.
The clean horizontal and vertical lines in this pool deck draw your eyes to the pool, intentionally making it the centerpiece of the property.
Steps & Walkways
La Lastra ™ slabs also make fantastic steps and walkways. In the left image below, you can see how the owner staggered Large Squares to create a modern-looking walkway up to his front door. On the right, you can see how the owner also used Large Squares as a walkway. However, instead of staggering them, he used them as stepping stones.
As an alternative to staggering Large Squares for your walkway, you could also use the Large Rectangle slabs as wide incline steps, or place two or three next to each other in a staggered layout as a replacement for the Large Squares in the image on the left.
La Lastra ™ Characteristics
La Lastra ™ is versatile
La Lastra ™ is a versatile paving stone for various patterns and applications. As you can see in the image below, the creator of this space cut square slabs into a rounded patio space.
Most people arrange La Lastra™ slabs in one of four ways: 2 Stone Step Running Bond, 3 Stone Modular, La Lastra™ Random Layout, and Stack Bond.
La Lastra™ is modern
With its unique flat surface and beveled edge, La Lastra™ slabs create a very modern look no matter where you place them. This paving stone makes any space feel open, clean, and functional.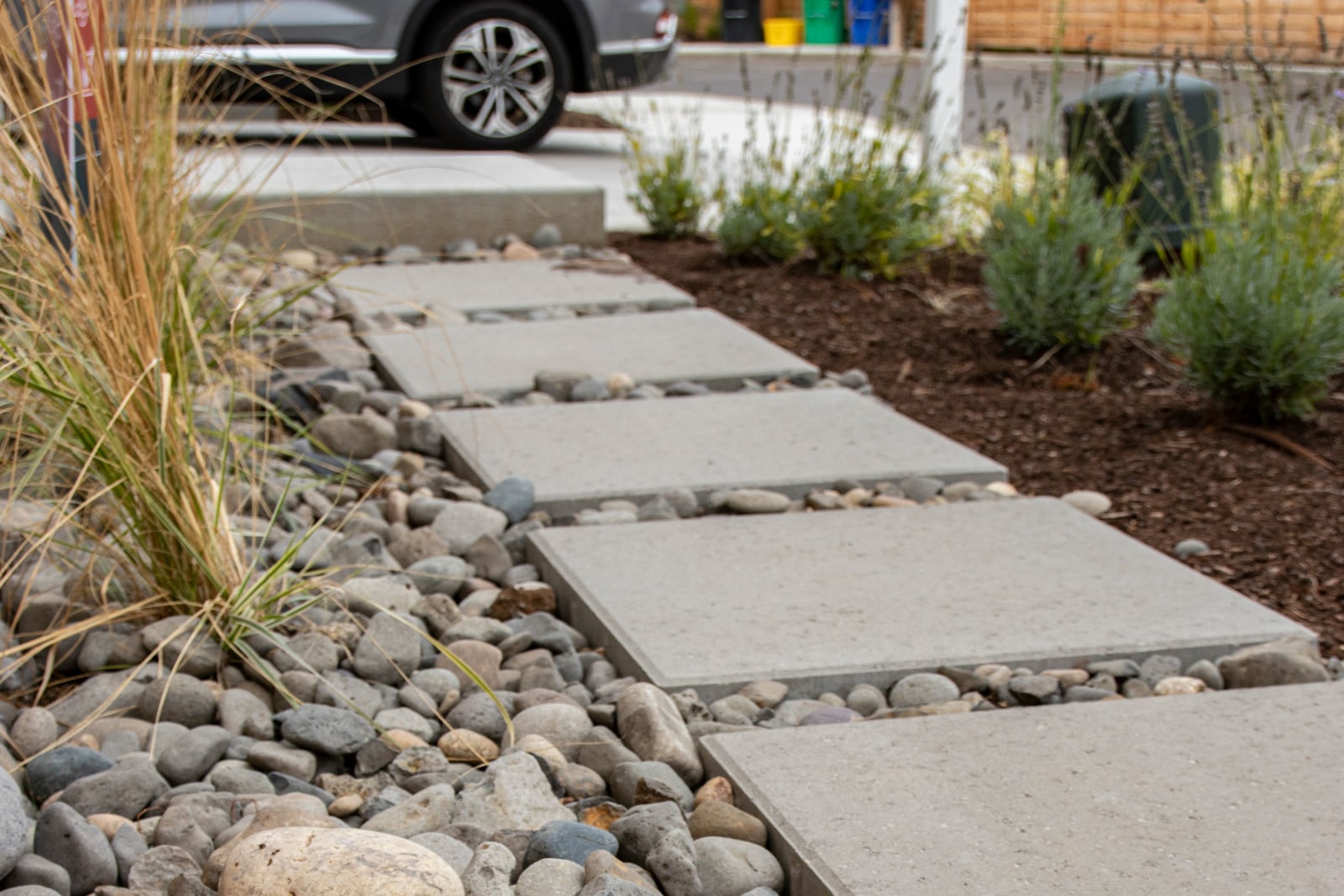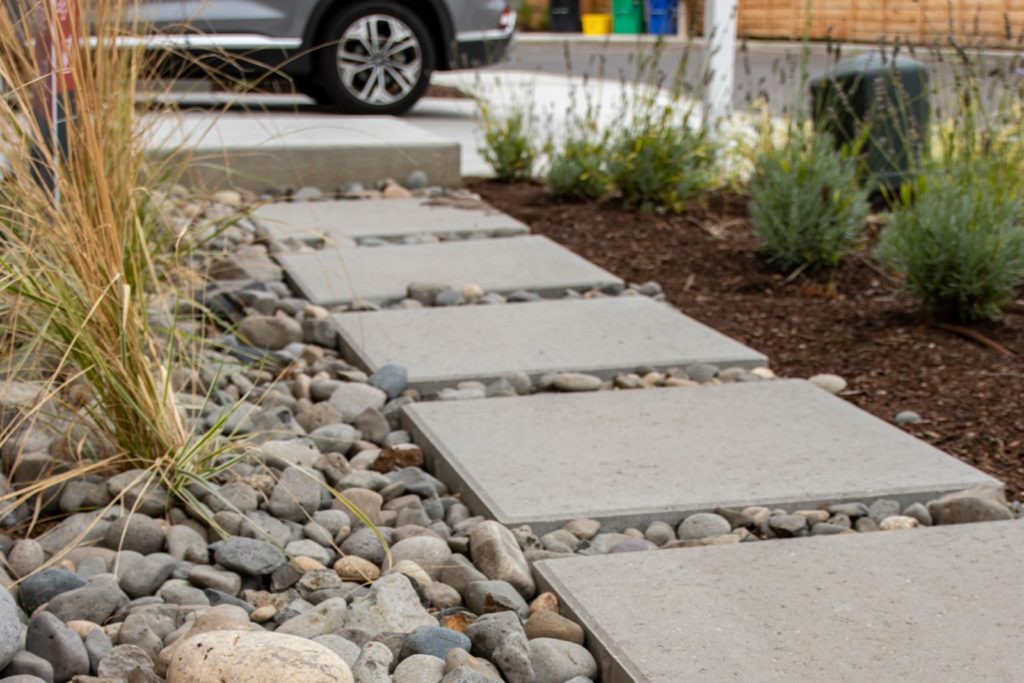 La Lastra™ is strong
While these slabs are broad and flat, they're reliable. We even tested their strength by dropping a bowling ball from 36″ right on the Large Square slab—and it survived unscathed.
La Lastra™ slabs are compatible with all current pedestal systems and are a viable alternative to extensive hydro slabs. We also tested the 24"x24" slab in a pedestal application and they held 2,000 lbs per square foot. To say La Lastra™ is sturdy is an understatement.
Learn more about La Lastra™
If you have any questions about our La Lastra™ slabs, give our team of hardscape experts a call at 503-623-9084 or see La Lastra™ in-person at our Paving Stone Display in Rickreall, OR.