The latest trend in decorative hardscapes is a shift away from the tumbled stone and broken rock toward a sleek, modern look. Urban areas are growing and, as a result, many people are interested in more modern stone families such as LaLastra, Murata, Villa Stone, our standard surface pavers, and Turf Stone to complement their modern architecture.
In this article, it's our goal to help you understand how to match hardscape with modern architecture on your land—whether that be your house, patio shed, or all of the above. We also hope to inspire your vision by showing examples of how our customers have used our paving stone and retaining wall products to design stunningly modern hardscape on their property.
What is Modern Hardscape?
Modern architectural styles feature clean lines, glass, concrete, and steel, and efficient, free-flowing functional use of space. Modern Hardscape follows the same line of thinking. If you have a modern-looking house, broken blocks and ornate borders will clash.
Here's a brief breakdown of each of the aesthetics, or characteristics, or modern hardscape.
Open spaces: modern homes were built to honor the concept of free-flowing space. They exemplify highly functional living as well as a rejection of sentimental ornaments and clutter.
Clean, geometric lines: modern hardscape options feature smooth surfaces and modular geometric designs that lend themselves well to strong patterns.
Modern materials: in contrast to the wood and plaster used in traditional architecture, materials such as glass, concrete, and steel allow for plain, rectangular, and linear patterns that give the modern design its crisp, sleek look.
Function over form: the simplicity of modern architecture prioritizes function, with each design element serving a specific purpose. The functionality of a space is integral to the beauty of modern architecture.
5 Modern Hardscape Families
If you're interested in installing modern hardscape, we recommend selecting from the following hardscape families, all available at Western Interlock, to complement your modern architecture.
La Lastra™
The La Lastra™ family of paving stones features three sizes of square and rectangular shapes, ideal for a variety of modular designs. Choose from tan, charcoal, and pewter colored stone. Best suited for pedestrian traffic only.
Smooth square paving stones combined with the dark gravel provides the perfect complement to modern architecture.
The simplicity of the LaLastra pattern highlights this minimalist pool design.
The ultra-durable LaLastra pavers can withstand the impact of a bowling ball dropped from three feet without any damage.
Murata™
Consider Murata™ if your hardscape needs include a retaining wall or fire pit. The smooth, crisp look straight lines offer the perfect complement to your modern architecture. The Murata™ line is available in three colors and several interlocking shapes to accommodate a variety of design needs.
Unlike traditional round fire pit kits, the square Murata™ Fire Pit creates a modern aesthetic with sharp, flat, clean lines.
In contrast to the broken stone look of traditional hardscapes, the Modern Murata™ Wall has a clean geometric pattern that feels intentional instead of random, and big instead of boxy.
Turf Stone
The perfect combination of form and function. Choose Turf Stone when the goal is to increase green space, control erosion, or reduce storm runoff. The permeable honeycomb design of the rectangular pavers features a 60/40 ratio of concrete to open space, making them ideal for planting grass or ground cover.
Turf Stone without grass or ground cover is a striking alternative to water features, steps or decks when the goal is to add a clean geometric hardscape to open space.
Adding natural grass to Turf Stone showcases form over function and ease of maintenance.
Villa Stone
Villa Stone has a unique ratio of longer length and narrower width creates the feel of a plank walkway or roadway. It's clean, linear look accompanies modern styling well and opens up a lot of fresh design possibilities, allowing you to achieve the perfect look and design for you.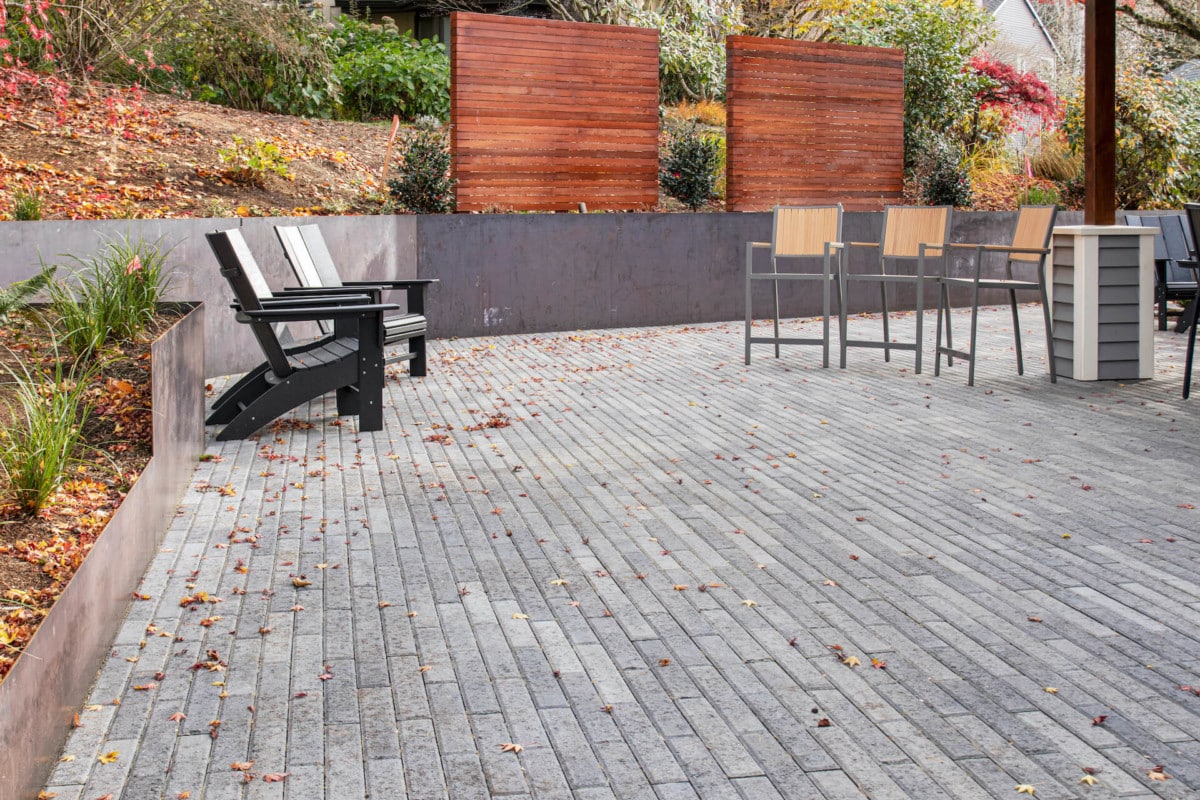 This is a non-stock/special order item (please note: non-stock is a product that we don't keep in stock and is considered a special order, additional fees may apply).
Get Started on Your Modern Hardscape
As you can see, there's no shortage of options. Given the range of colors, sizes, and finishes to choose from, we're certain that we have the perfect hardscape to complement your modern architecture. Our design team is here to assist you along the way.
Want to learn more about how to hardscape your property? Join one of our upcoming seminars or give us a call at 503-623-9084.