What is Geotextile?
Geotextile is a textile for dirt and rocks. The "geotextile" category includes geo fabric and filter fabric. These two textiles are a permeable fabric made of polypropylene or polyester that come in three forms, depending on the textile: woven (resembling mail bag sacking), needle punched (resembling felt), or heat bonded (resembling ironed felt).
Geofabric
Geofabric is similar to filter fabric as its primary purpose is for separation, drainage, and filtration. However, instead of being woven, it's needle-punched.
In hardscape projects, people use geo fabric for flat pedestrian or vehicular applications. For example, we used geo fabric in our how to lay a circular patio DIY tutorial.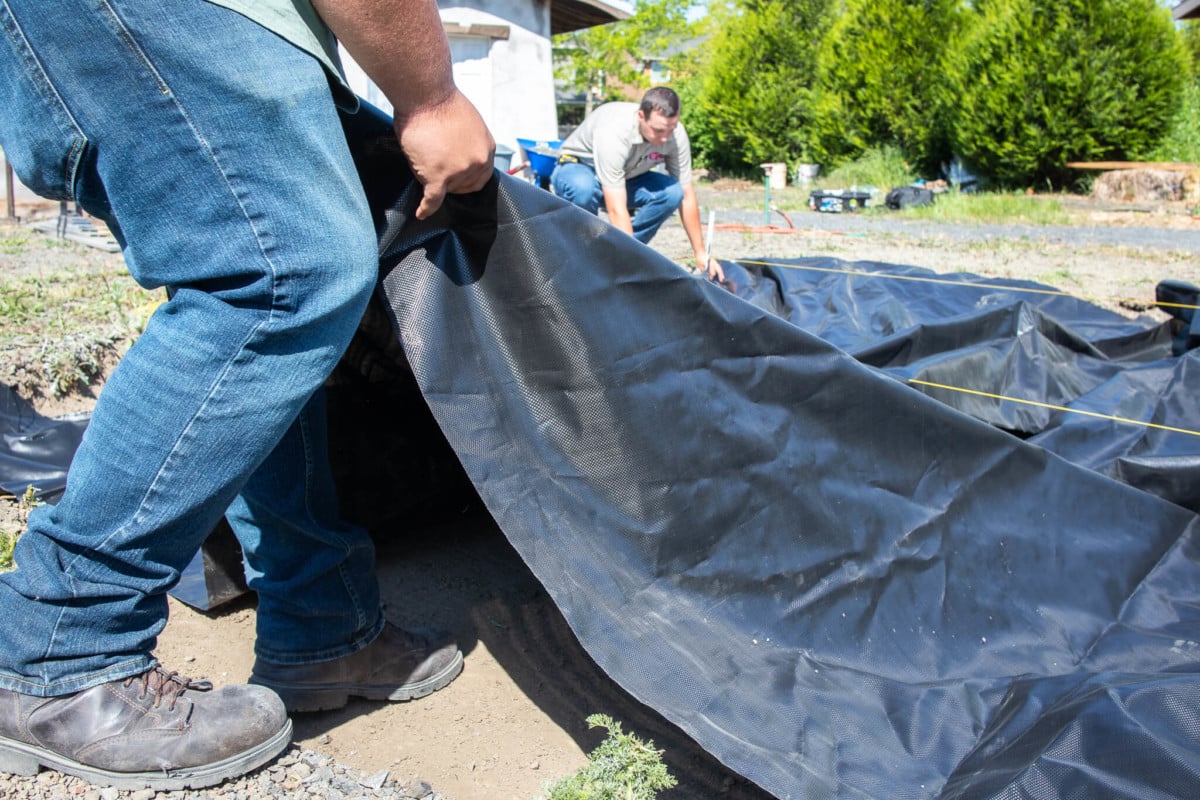 After we excavated a circle for the patio, we laid geo fabric to keep the landscape separate from the hardscape and promote drainage.
Filter fabric
Most people use filter fabric to increase the breathability of soil or gravel and encourage water drainage. Secondarily, they use it to keep dirt, bark dust, or other landscaping from migrating into a gravel base.
You can see in the image above that filter fabric is useful in a retaining wall project. In this case, we pinned up filter fabric against the dirt behind our retaining all to keep any loose topsoil from migrating into the reinforced gravel backfill.
Note: Filter fabric is also useful as landscape fabric. It can be used as a protective layer under bark dust to keep weeds or soil out of your landscape.
What is Geogrid?
Geogrid is primarily used for hardscape reinforcement. In the photos below, you can see how we used geogrid to help us reinforce a retaining wall backfill.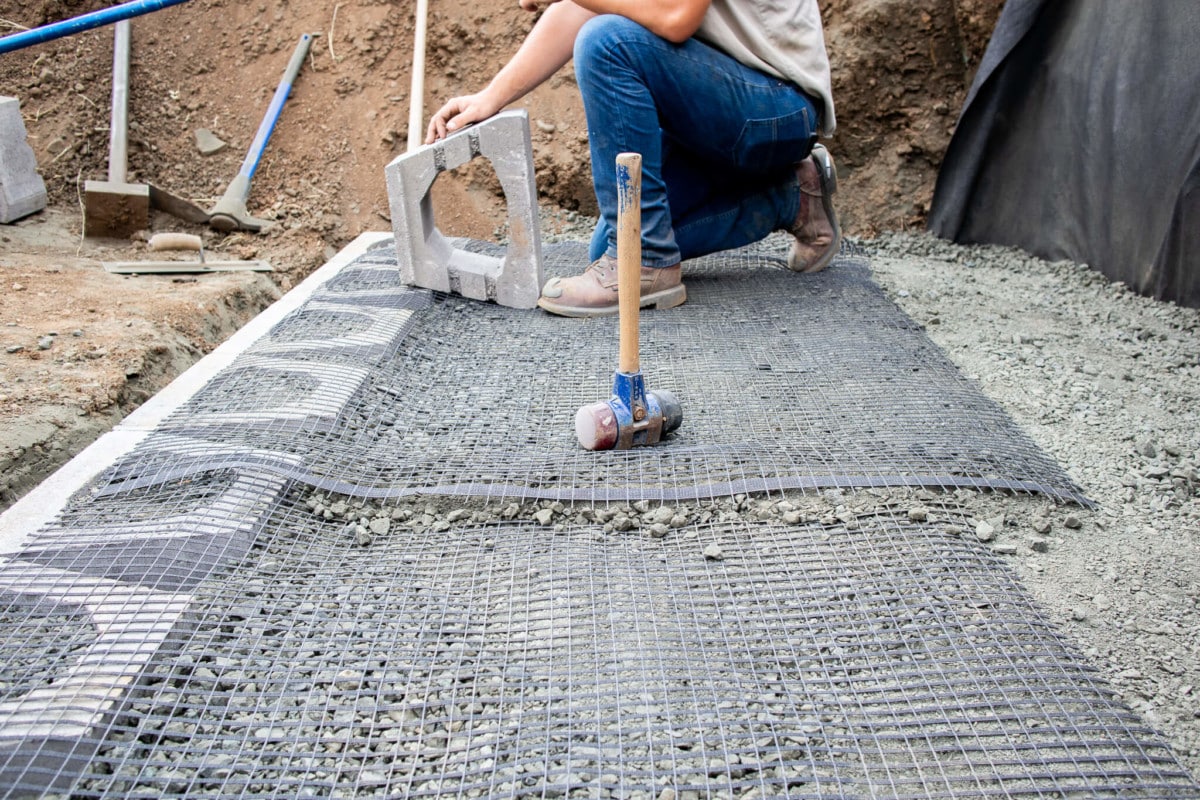 For this project, we laid geogrid across the entire length of the backfill. The grid also lays on top of the retaining wall blocks to help tie them into the base.
How to use geotextile or geogrid in hardscape
Using geotextile or geogrid is in hardscape is easy to use for even the most novice DIYer. If that's you, here's a simple three-step process for using these materials in your hardscape.
Step One
First, you'll want to lay your material directly on top of your soil or gravel. There's no need to pin or reinforce the textile or grid as you'll likely cover it with a hardscape or landscape of some sort.
You may need to use a knife or scissors to trim the textile or grid to fit your workspace. For example, in the image below we cut the corners away from the geo fabric for a circular patio.
If you're working with textiles on a vertical workspace, you will want to use landscape staples to hold the material in place as we did with the filter fabric in the image below.
Step Two
Second, make sure that your geotextile or geogrid doesn't overlap on itself. Since the material exists to reinforce the soil, it needs dirt or gravel between layers to help keep its tension.
In the image above, our geogrid wouldn't stretch across the full length of our retaining wall backfill, so we had to layer and fill the gap with gravel. If your geotextile is overlapping, do the same thing and spread a small amount of gravel or soil in between the overlapping layers to retain tension.
Step Three
Third, after you've placed your material, continue your hardscape project. If you're using geogrid to reinforce a retaining wall, lay and compact another course of gravel right on top of it.
If you're using filter fabric for filtration, lay the fabric down and put your landscaping directly on top of it. If you're using geo fabric for separation, lay your gravel base.
Take the hard out of hardscaping
Here at Western Interlock, we're on a mission to take the hard out of hardscaping. That's why we publish DIY tips, tricks, and step-by-step tutorials at DIYwithWI.com.
If you have any questions or would like to start a DIY paver project, call our team of hardscape experts at 503-623-9084.