You know the ones—they're split-faced and shaped like a strange trapezoid. They have a hole in the middle for aggregate fill or a lip so they can be stacked at an angle. They might just be the ugliest paver on the planet. Sure, they're generally useful, but they're not very beautiful.
This chronic problem of boring retaining wall blocks is why we created our new retaining wall paver, Chateau Moderna.
What is Chateau Moderna?
Chateau Moderna is a modern retaining wall block that has a smooth and sharp aesthetic. If you would like to install a retaining wall for your property that feels clean and contemporary, Chateau Moderna may be exactly what you're looking for.
Flat faced
One advantage of Chateau Moderna is that it is a flat-faced retaining wall block. Most retaining walls you see are built with a split-faced block, making the overall look a little more clunky and rough.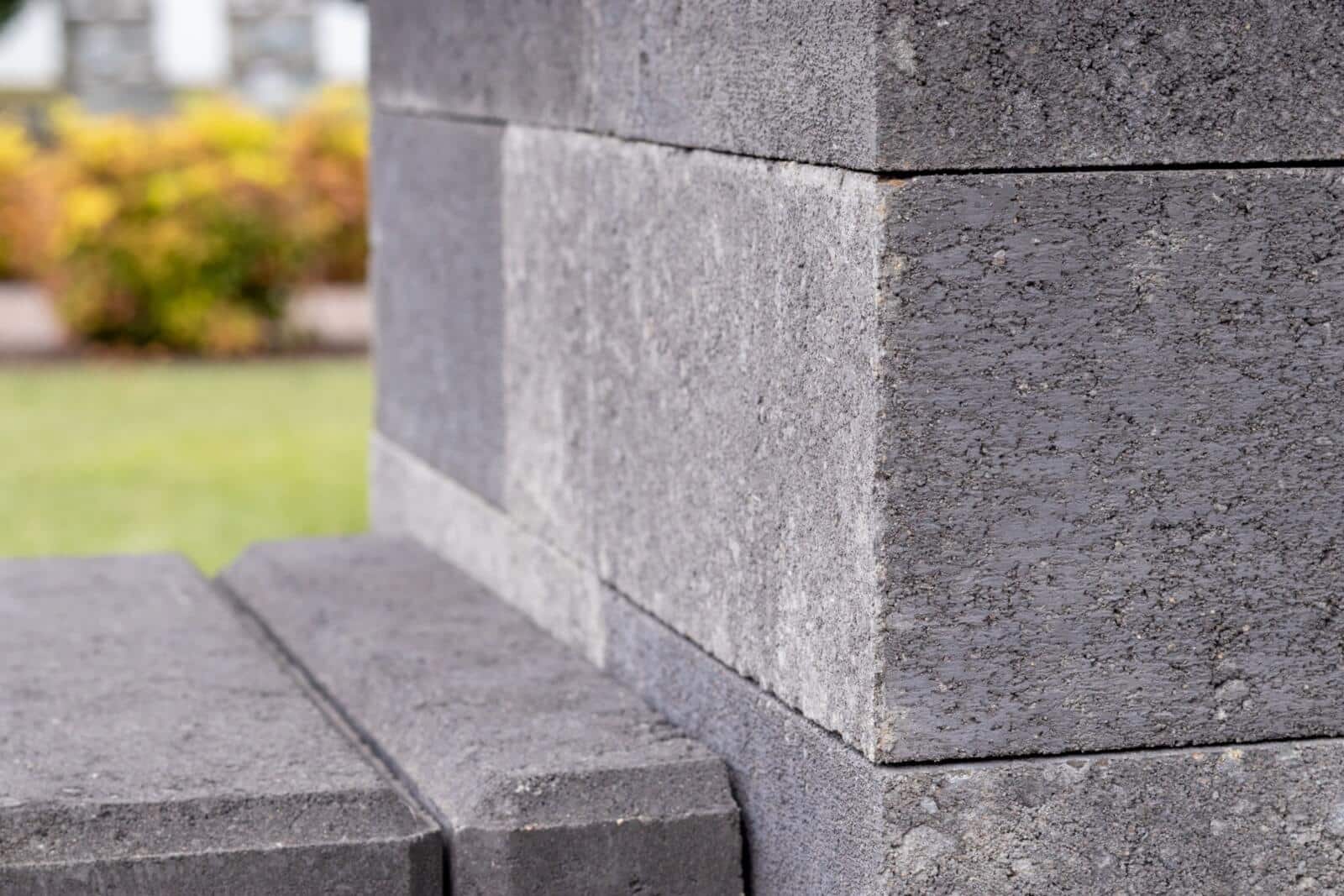 Rectangle shaped
Chateau Moderna pavers are shaped as rectangles instead of trapezoids. This factor also contributes to a final wall that is much more modern and aesthetically pleasing.
Smooth and clean
Chateau Moderna doesn't feature any of the lip edges or holes that need to be filled with aggregate. It's a smooth and clean stone, unique and appealing for retaining walls.
Why Chateau Moderna?
The word "chateau" tells part of the story of this stone. In French it means "castle," or "fortified building." It was also a name for someone who lived in or near a castle, or for a person who worked in a castle.
Coupled with the word "moderna" (Portuguese for modern), the name invokes a picture of a modern but dignified stone castle. The Chateau Moderna paver will bring a modern stone finish to your project that is reminiscent of the French countryside and beautiful manors.
How Is Chateau Moderna Used?
The Chateau Moderna is actually a versatile stone that can be used in a variety of applications.
Retaining walls
As we've covered, one of the main ways to use Chateau Moderna is for retaining walls. The result will be a beautiful wall that is unique instead of old-school, and it will be sleek and modern instead of tumble-down.
Garden walls and planters
Chateau Moderna is also great in the garden. You can easily create attractive garden walls as well as raised beds or stone planters.
Modern Step pavers
To warmly welcome your guests, Chateau Moderna can be used seamlessly as a step paver. Its modern finish and variety of color options will bring that countryside castle feel to your front steps—an attractive home upgrade that makes a great first impression.
What does Chateau Moderna Design go with?
La Lastra slabs
The modern rectangular shape of Chateau Moderna pairs perfectly with our La Lastra paver.
The combination of the modern retaining wall paver and the Mediterranean style cap of La Lastra will result in an area that's sleek and welcoming.
Monaco Coping
If you like the look of Chateau Moderna for your retaining wall, but would prefer to finish it off with a more traditional capstone, try pairing it with Monaco Coping. The standard bull-nose edge of Monaco Coping fits well in any space—from your retaining walls to your garden to your patio steps.
Park & Plaza
Finally, Chateau Moderna can also work well with our Park & Plaza stone. If you implement Park & Plaza for your patio or open area, Chateau Moderna will make a perfect complimentary retaining wall or steps to complete the space.
Plan your outdoor project with our Project Planning Guide
If you are ready to start planning that new and modern retaining wall or other paver project you've been considering, we have a resource for you.
Our Project Planning Guide will direct you through the steps of deciding on and implementing your new pavers.
Get ready to start creating your new wall and hardscape!