Permeable Pavers direct rainfall back into the ground so that you can control pooling and eliminate storm sewer systems in your hardscape. In this article, we're going to unpack what permeable pavers are, how they work, and when you should use them.
Why should you use permeable pavers?
Since permeable pavers are intended to promote water drainage, there are dozens of practical ways to use them—especially if you live in the Pacific Northwest! Here are three of the most practical applications.
Driveway
Do you have a driveway like this (see image below)? In the image below, the house is at a lower elevation than the road. Did someone say water damage? That is unless you do what the owner of this house did. They installed a permeable paver driveway instead of a standard concrete driveway.
During wet months, water runoff is directed into the ground and absorbed before it even gets to the vehicle in the driveway.
You may have a similar situation, but you have a much more minimal slope in your driveway. Consider installing a single strip (or two) of permeable pavers right before your garage slab starts, and you'll eliminate water runoff into your garage.
Any of our permeable pavers work for this application. However, VS-5™ Drain Pave is an excellent solution that gives you an extremely high level of water drainage.
VS-5™ Drain Pave is stable enough to drive your car on while allowing for penetration of rain and stormwater and serving as an alternative to expensive sewer systems. With proper installation and maintenance, these permeable pavers don't clog or seal off dirt like porous concrete or asphalt pavements.
Parking lot
Permeable pavers are also great for parking lots, large or small. The problem with most parking lots is that they're asphalt, which seals up the ground and keeps water from infiltrating back into the earth as it naturally would.
Rainwater infiltration is vital for the regeneration of groundwater and the health of vegetation around parking lots. That's why paving projects mustn't seal the earth.
Not to mention, it's challenging to pave a parking lot perfectly. There's nothing worse than unplanned for pooling in the middle of a paved area. That's one reason why car dealerships like this one in the image below installed our Park Permeare™ permeable pavers in their lot instead of sealing with asphalt.
Regardless of the environmental benefits, these permeable pavers provide a much more pleasant experience for fall, winter, or spring car shoppers. Instead of splashing through puddles and walking away with wet shoes and a sour attitude, they walk across smooth paving stones that drain away all the rainwater.
In your landscape
With correct maintenance, permeable pavers don't clog or seal off with dirt like pervious concrete or asphalt pavements. That's why they're such an excellent solution for hardscaping. Permeable pavers promote grass, tree, and shrub growth by providing air and water to roots.
See how, in the image above, this city installed Turf Stone in their park to increase natural vegetation growth and relieve their already overburdened drain water system.
Once the grass starts growing, it'll look like the Turf Stone in the image above.
You can also use permeable pavers to create drains for water features such as outdoor showers, waterfalls, and more. See the image below of the outdoor shower.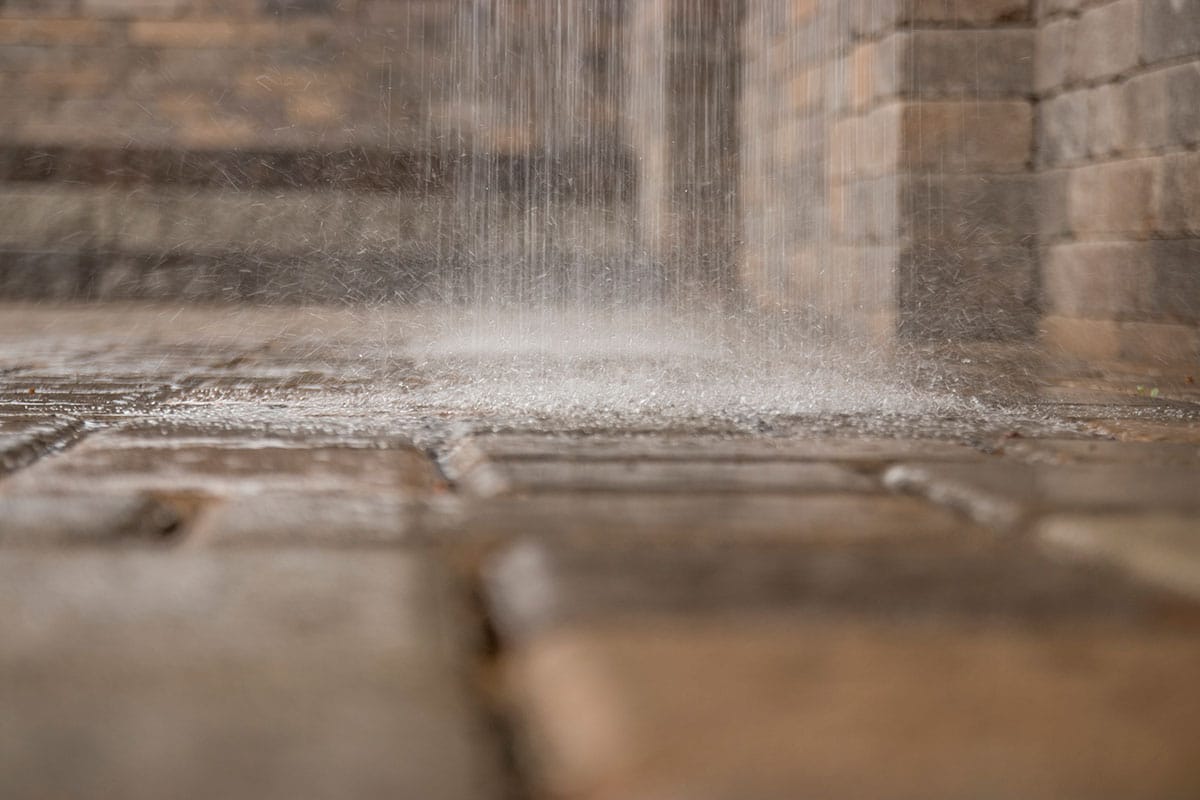 How do permeable pavers work?
Permeable pavers come in all shapes and sizes. Currently, we have five permeable paving stone options: Camino Permeare, Holland Permeare, Park Permeare, Turf Stone, and VS-5™ Drain Pave. While they're available in a myriad of sizes, textures, and colors, each is designed to allow water to permeate the ground adequately.
Aggregate filled joints promote permeability. Additionally, instead of packing a multi-layered sand and gravel base as you would when installing standard pavers, you lay down a firm layer of open-graded rock so water will drain through the pavers and direct the storm water to underground aquifers.
The permeable paver design is superior to other permeable pavements. Permeable asphalt or concrete, for example, is subpar for a straightforward reason: the paver itself is just as durable while the joint material is much more permeable.
Take look at these permeable pavers in action, installed by one of our contractors. See how the water quickly drains through the surface.
Install your own permeable pavers
Here at Western Interlock, we're on a mission to take the hard out of hardscaping. That's why we publish DIY tips, tricks, and step-by-step tutorials at DIYwithWI.com.
If you have any permeable paver questions, you can visit our Paving Stone Display at our Manufacturing Facility in Rickreall, OR. Alternatively, give us a call our team of hardscape experts at 503-623-9084.