If you live in the western side of the Pacific Northwest, you know a little too well that the climate is a wet one. Have you noticed the frequent rains starting to pool up on your concrete patio or asphalt driveway? Or are you thinking about investing in pavers and want to know what drainage system you will need to implement before you install them?
Whether you need to fix an existing drainage problem or are trying to avoid a potentially frustrating situation, this article will teach you everything you need to know about paver patio drainage.
Why does your paver patio need good drainage?
With water buildup and pressure come some specific difficulties that make it crucial that you prevent pooling on your patio. Pooling can lead to erosion and wear on your pavers, and can also cause flooding and damage when water is forced to drain toward the foundation of your house.
Being proactive to establish a system ahead of time and ensure that water drains properly can make all the difference in preventing these less-than-desirable effects of water buildup.
Natural drainage
Incorporating a system to make sure water will drain away on its own doesn't have to be complicated. Let's look at four important steps you can take to implement natural drainage.
Lay a proper base
Achieving a natural drainage system starts with laying a proper base. You will want to make sure the base is deep enough (4-6 inches for pedestrian traffic, 6-10 inches for vehicular traffic)  as well as made with the appropriate aggregate. 
Have a proper slope and grade
You will also need to ensure you have a proper slope and grade. Verify that the grade is one-quarter of an inch per linear foot. This will help make sure the water flows away from any important buildings or spaces.
If your site restrictions mean that you can't properly slope your pavers, keep reading. We cover what you can do in the next step.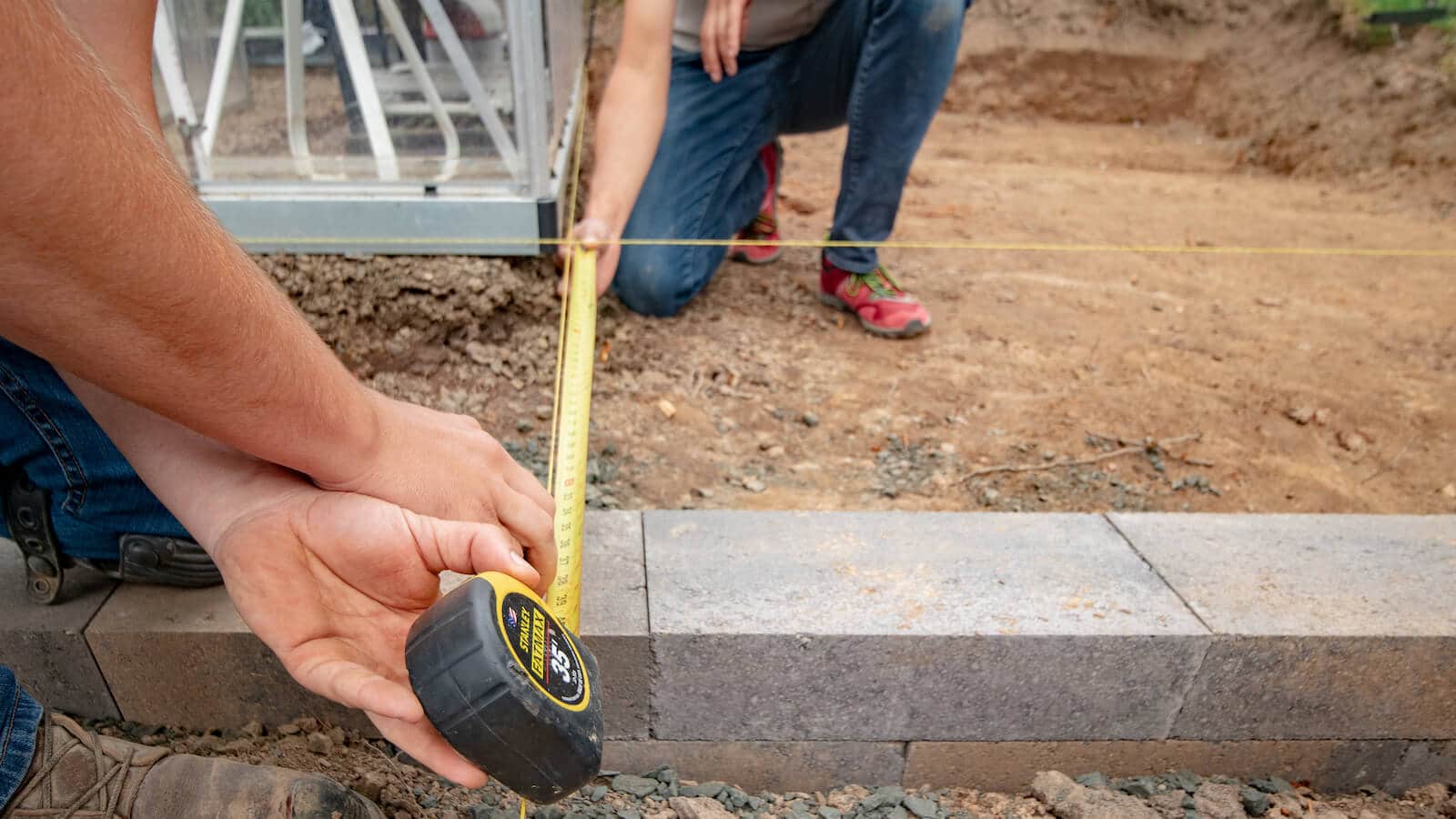 Try permeable pavers
Permeable pavers are a great option for ensuring that you have adequate drainage for your pavers. You can even use a strip of permeable pavers as a type of french drain at the bottom edge of your driveway, along a fence line, or next to your house. 
Dry well
Finally, you can create a dry well, a covered chamber underground that water can drain into and slowly blend into the already established groundwater. Again, permeable pavers are the best solution to cover a dry well while still allowing the water to flow through.
What are your options for artificial drains?
French drain
A French drain is is a covered trench containing a perforated pipe or open aggregates (gravel with no small pieces in it) that redirects water away from an area. You can end a french drain in a dry well or a daylighted pipe, or if you're using open aggregates, it can be part of a specially constructed patio base.
Channel drain
Another option for an artificial paver drain is a channel drain. A channel drain is made of rigid PVC and is designed to last. If aesthetics are important to you, channel drains come in several colors to coordinate with the rest of your landscape. They are also made with a top that is concave, creating excellent drainage and minimal collection of debris. 
A channel drain is a PVC (polyvinyl chloride) drain that comes with connecting couplers. A channel drain is simple to install, as you can simply stake it on grade without creating a trench.
Floor drain
A floor drain is a simple metal drain that fits in at floor level with your pavers. Floor drains gently collect and move water to a sewer or municipal storm drain and away from certain areas after a rainstorm or other large amount of water collects on the pavers.
Check out our training videos
Would you like to know how to install pavers yourself? Try our free training videos to learn how to build any hardscape project, including patios, driveways, walkways, and more.