Do you want a pergola? Should you install a firepit? Or, does a lovely patio do the trick? Is there a way to install pavers easily not have to spend so much money?
The answer is yes. You can! They aren't as tricky to install correctly as they might seem.
Pavers, also known as hardscape, are meant to compliment your landscape and are an excellent option for a usable and attractive patio area. There are many ways you can incorporate pavers—in your driveway, in your garden, in your grill area. This article will focus on teaching you some of the things to consider and research before you jump into the project.
By the end, you should have enough knowledge to make an informed decision on if you should tackle patio pavers so you can move forward in confidence.
Hardscape project considerations
You will need to think about several things when you are considering using patio pavers: design, materials, and tools.
Design
What type of paver do you want to use? Do you need a basic paver for something like a planter? Or do you need your entire driveway hardscaped?
Consider the space you're paving, the size and texture of the paver you want to use, and what color would match your landscape. Now is the time to dream a bit and write your wishlist.
Pro Tip: Sign up for How to Install Pavers, our free online training that walks you through the 10 Steps to create your perfect hardscape, including design and prep.
Materials
Different paving stone suppliers provide different colors and textures; some may be better than others for the project you are taking on. You will need to research local paver suppliers and compare prices to see what the best fit for you will be.
A few considerations regarding outdoor patio paver material would be:
How or where will you get pavers? 
Will you pick them up or get them delivered? 
What's the best way to source sand and gravel for your base? 
Conveniently, we supply pavers and all the materials needed to install patio pavers across the Pacific Northwest in Oregon, Washington, and Idaho.
Pro Tip: Use our Dealer Finder to locate a Western Interlock dealer near you.
What You Will Need
It is essential to think about what tools you should have on hand to install hardscape properly.
At a minimum, you will need some essential tools like a shovel, a wheelbarrow to haul materials, and stringlines to make sure everything is straight. To get the complete list of tools and supplies, read our tutorial on How to Install Pavers.
Benefits and drawbacks of DIY
Let's take a look at some benefits of doing this project yourself, as well as some drawbacks to having someone else do it for you.
Benefits
There are several significant benefits to doing a paver project on your own. Let's look at the three aspects and how they break down as benefits.
Cost: You get to save money as well as plan the design yourself.
Satisfaction: The work involved is worth the satisfaction of having added an area yourself.
Maintenance: One big one benefit from taking on a task like this is the expertise you gain. If something breaks or needs fixed, you know how to do it!
Timeframe: You can get started as soon as you please. During warm weather months, most hardscape contractors are booked out three to six months in advance.
Drawbacks
However, there may be some drawbacks to doing a outdoor home paver project on your own: cost, trust, and maintenance.  
Cost of Opportunity: You will save money by installing your own paver patio. However, you will spend much more time on the project.
Satisfaction: There's a chance your project won't look professional or you won't be as happy with the final result.
Maintenance: If you lay your pavers, you'll know where you made mistakes and will know where to look when something goes wrong. The benefits of self-maintenance outweigh any drawbacks.
Timeframe: Start-to-finish, your project will likely take longer to complete than if you hired a contractor. Unless you invite your family over to help!
Our take
If you decide to take on the paver project yourself, however, you can save money, do it exactly how you want, and simultaneously learn a new skill that will make it more feasible in the future to lay more pavers or fix damaged ones!
Pro Tip: Watch How to Navigate a Daunting DIY Paver Project to learn how Kim and her husband transformed their overgrown backyard into a space that was easy to maintain and fun for the family to enjoy using pavers.
Hardscape projects that are easy to DIY
There are several options of hardscapes that are pretty easy to make with pavers! Let's take a look at them.
Stone Planter
One of them is a stone planter—typically used to plant vegetables or flowers inside. A stone planter creates a secure, neat bed to grow various plants or even display garden ornaments.
Watch our DIY tutorial How to Build a Stone Planter to get started.
Grill Surround
Another idea is a grill surround. If you purchased a grill that doesn't have working space on either side of it, or if you want your grill to be more integral in the landscape, this is an excellent option for you. A grill surround provides an aesthetically pleasing and practical space to cook all the delicious meals that come with summertime.
Watch our DIY tutorial on How to Build a Grill Surround to get started.
Fire Pit
A fire pit is another project that is easy to do by yourself. It should take only a few hours to create the ideal, cozy spot to gather around in your backyard.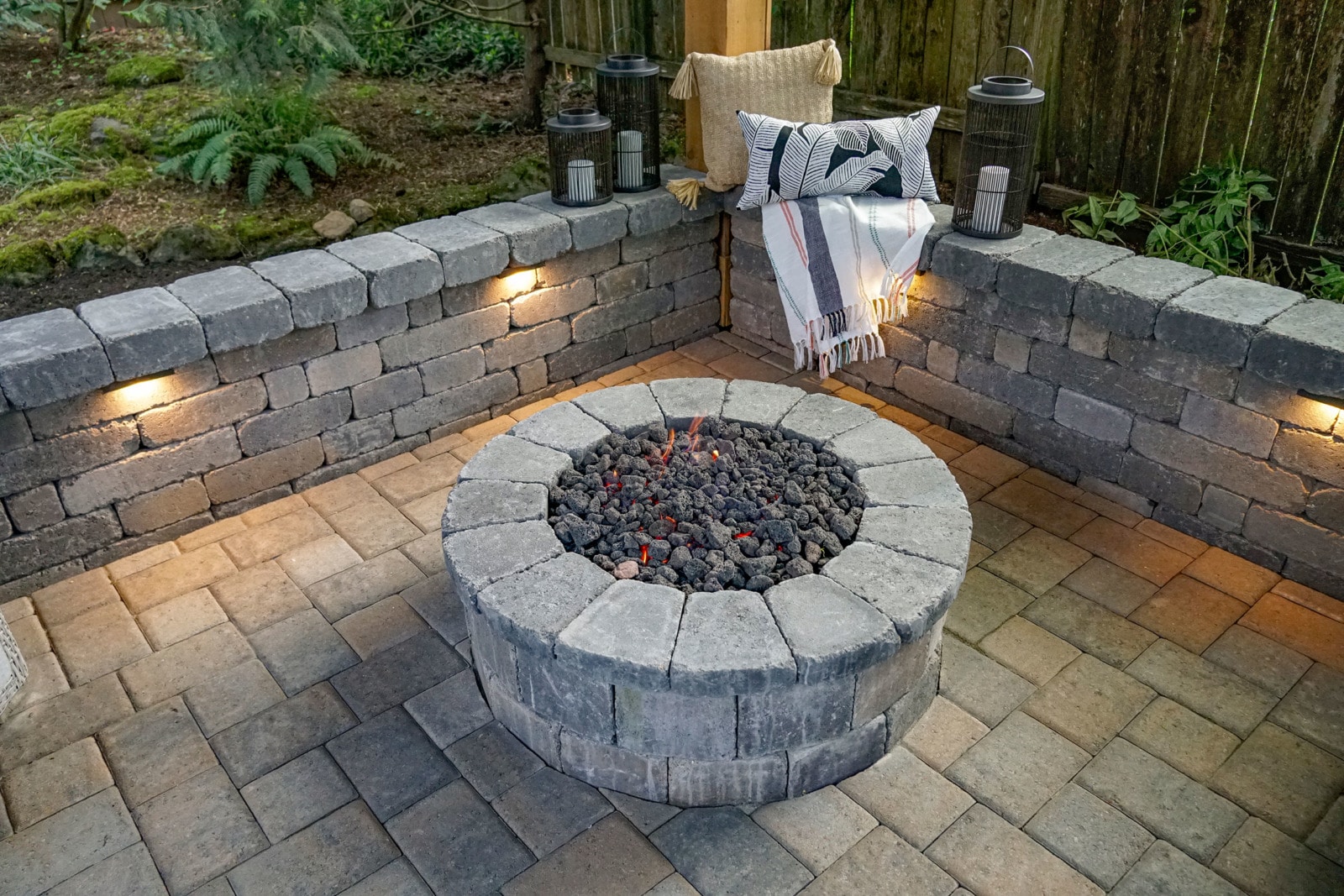 Watch our DIY tutorial on How to Build a Stone Fire Pit to get started.
Patio
Finally, you can decide to create a patio, either circular or square. A patio is one of the paver projects that will take a bit more time, but it is not necessarily much harder than the other DIY options. When you finish your patio, you will have a beautiful outdoor place to host guests and have cozy evenings with your own family.
Watch our DIY tutorial on how to build a Circle Paver Patio or Square Paver Patio to get started.
Common DIY mistakes to avoid
A couple of common mistakes are typical for DIY'ers to make that you can easily avoid.
Don't use dirt
One error that we often see is creating a base out of dirt instead of gravel. 
Dirt will settle over time (often unevenly) and can create a rough and disjointed surface. Gravel, however, can eliminate the problem of the pavers settling!
Don't bulldoze with your pavers
Another common mistake is not using the "Click and Drop" method for placing the paving stones.
The trick is to line up the next stone flush with the previous stone's front until you hear a little "click" of the stones tapping onto each other. This is your signal that the pavers are straight; you can then drop the stone. Not using this simple method can result in crooked pavers or gaps in your patio layout!
Read our article, 6 Common Paver Installation Mistakes to learn more.
So should you do patio pavers by yourself?
If you've thought through where and how you will get your pavers, decided what design you like, what project to move forward with, and some of the common mistakes that you'll need to avoid—then yes, you CAN do it by yourself! The beautiful, easy-to-host in-yard dream of yours doesn't have to be so intimidating. You can make it happen by yourself, for an affordable price, and with less hassle.
Browse our DIY hardscape tutorials for more instruction on how to lay patio pavers (we have specific posts for each specific project!) 
You can also call 503-623-9084 to talk to our sales team and schedule a look through our display. If the project you have in mind is just a little too complicated for you to do on your own, we're happy to recommend you to a local dealer who can help.