Why We Created Murata™
It's easier than you think to build your retaining wall with our Murata™ retaining wall system.
We first had the idea for Murata™ in the early 1990s, back when Western Interlock was just getting started. At the time, there wasn't much variety in retaining wall blocks, so we wanted to design something different—a block with a smooth face, an alignment tab that makes building easier (not harder), and a complete family of blocks, from base to cap.
Our initial plans for Murata™ sat in a drawer for 26 years because another retaining wall manufacturer got stuck in court over patent issues, and we didn't want to get into any tricky business. Nevertheless, it was in those years that we launched many kinds of paving stones and other hardscaping, including block systems like the Chateau Wall and Tegula Garden Wall.
Now that time has passed, we finally get to showcase Murata™, our innovative retaining wall block system with a smooth face, hollow core, and multiple building options. Keep reading to learn how Murata™ works—and how you can build your professional-grade retaining wall.
4 Reasons You Should Consider Murata™
1. Murata™ is an easy-to-follow system
Building a retaining wall can be a daunting project. That's why the Murata™ system comes with easy-to-follow instructions with lots of helpful details. We can't do the work for you, but the Murata™ system makes it easier for DIYers like you to build your wall just how you'd like to.
2. Murata™ has a unique, modern look
The Murata™ family's crisp corners and smooth face give a fresh, modern look to your backyard, patio, or anywhere you're building a retaining wall.
The beautiful color blending makes any retaining wall look almost like travertine marble. During the manufacturing process, the face of the block gets smeared slightly—creating a marbled look. We have two blended color options (other than Pewter, our base concrete), so you can choose the one that best fits your project.
3. Murata™ is sturdy
The Murata™ retaining blocks hold up well after years of use. One thing that makes Murata unique is the ability to fill the core with gravel. A gravel core actively locks the blocks together, and when coupled with adequately installed fill and geogrid, it makes for a very sturdy wall.
4. Murata™ is customizable
The Murata™ family includes three kinds of blocks and a cap, so you can choose which blocks work best for your project. Murata™ Standard has a built-in 1" rear tab, making for a consistent set-back on your retaining wall. The Murata™ Variable comes without the tab, and it's excellent for building base courses and steps since you don't have to break the block to make it level.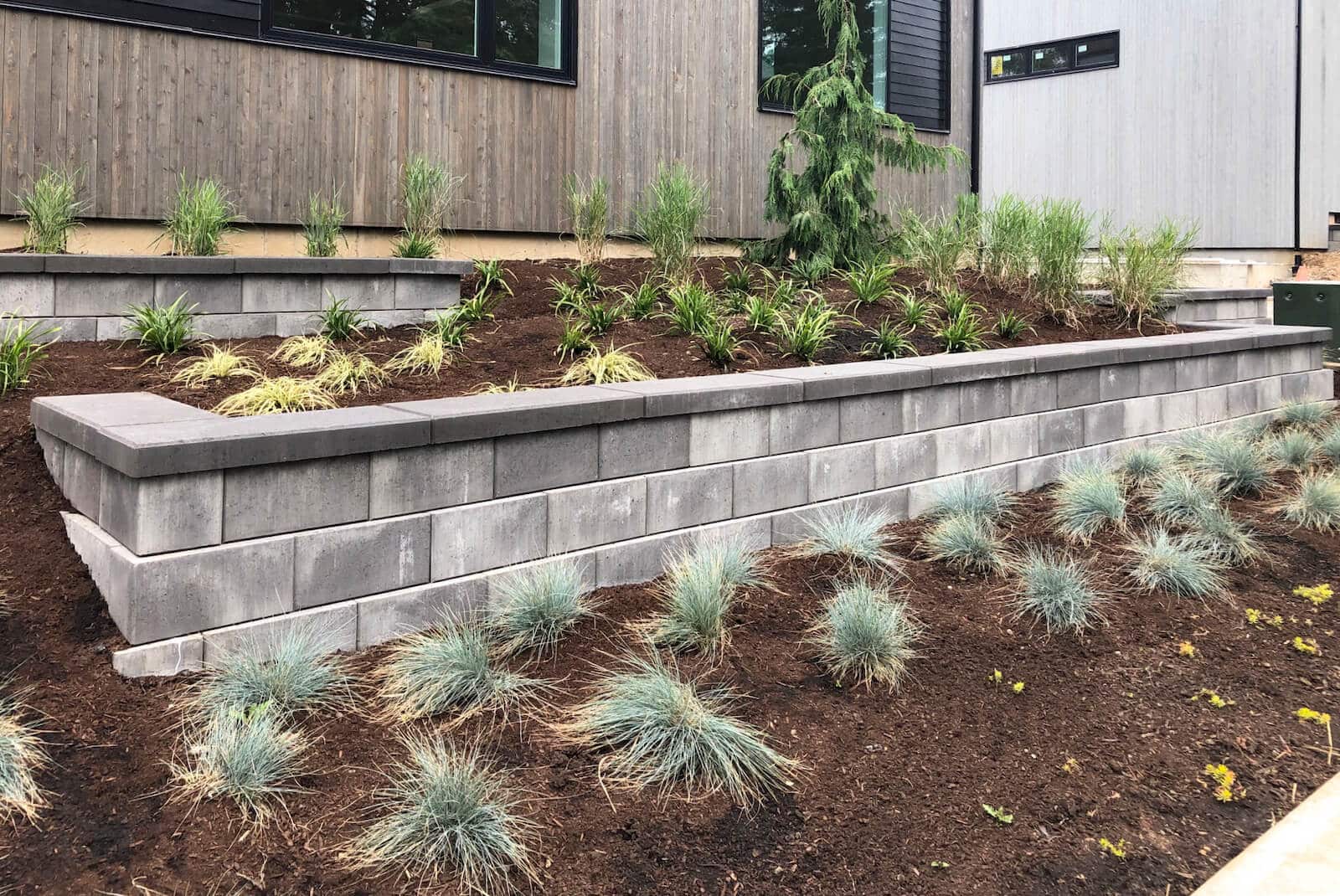 We've also got the Murata™ Angolo, which are excellent for corners, columns, and filling in narrow gaps between wall elements. Because they are all part of the Murata™ system, you can design your retaining wall using any combination of these blocks.
Simplicity Comes with the System
When we started planning the Murata™ retaining wall system, our goal was to create a simple retaining wall system that works, without unnecessary confusion. We call it a "retaining wall system," but with the way each piece works together nicely, it's more like a family.
How to Use Murata™ Wall Blocks
Our Murata™ retaining wall system offers three types of blocks and one type of cap (with various sizes): Murata™ Standard, Murata™ Variable, Murata™Angolo.
The Murata™ Standard or Murata™ Variable form the basis for your retaining wall. We designed each with a smooth face and hollow interior. The only difference between them: the Murata™ Standard has a 1" tab at the back for retaining walls with a slight set-back.
To construct corners with a tight radius, take a look at the Murata™ Variable. It doesn't have the 1" tab you see in the Murata™ Standard, so you can easily customize your building project.
The Murata™ Angolo is designed to make 90-degree corners or columns simpler to build. We sell the Angolo in handed (right and left) pairs, so you get nice, clean set-backs.
The Murata™ Cappello has a dual purpose—they make top-notch caps for your Murata™ columns and walls, and you can also use them as step treads. The Cappello comes in four sizes, and they work well with our Chateau Wall™ blocks too.
Want to learn more about the Murata™ retaining wall system? Register for an upcoming seminar at a location near you, or give us a call at 503-623-9084.