Chances are your landscape is not level. It's also likely that you didn't think anything of it until you began a hardscape project.
However, there's nothing worse than finishing your project to find out water runoff drains toward your house instead of away from it. In this article, we'll share a few simple steps to help you set a grade for your hardscape project.
What is grade?
Setting grade (or grading) is how you control or manipulate a slope to ensure that surface drainage runs in a particular direction. Surface drainage could be anything from irrigation overspray to a torrential downpour.
Most people want their hardscape to be flat. However, a perfectly flat patio collects water. Grading is what you do to eliminate pooling and promote drainage.
Just as you don't want to feel like your patio is a steep slope, you also don't want to trudge through a pond every time you cross your courtyard. That's why we recommend a 1¼" of fall per every 10 feet in directions away from any structure.
You'll have to do the math for your hardscape project. However, as an example, if you're hardscaping a 20' patio, you would want the outside edge to be at least 2½" below the edge that is against the structure. See the illustration above for a guide.
It's likely that at this point, we've convinced you to consider grade. However, the question remains: how do you do it? We'll show you.
How to set grade
Below, we're going to outline a simple three-step process that will get you the results you need. Don't let setting grade intimidate you. Take one step at a time, and before you know it, you'll have set a perfect grade.
1. Place your stakes
After excavating and adequately preparing your project area, you'll want to place wood or metal stakes across the highest part of your patio. Please do your best to get it close to where you want the finished height of your paving stones to be. Finally, stretch a string line tightly between your stakes.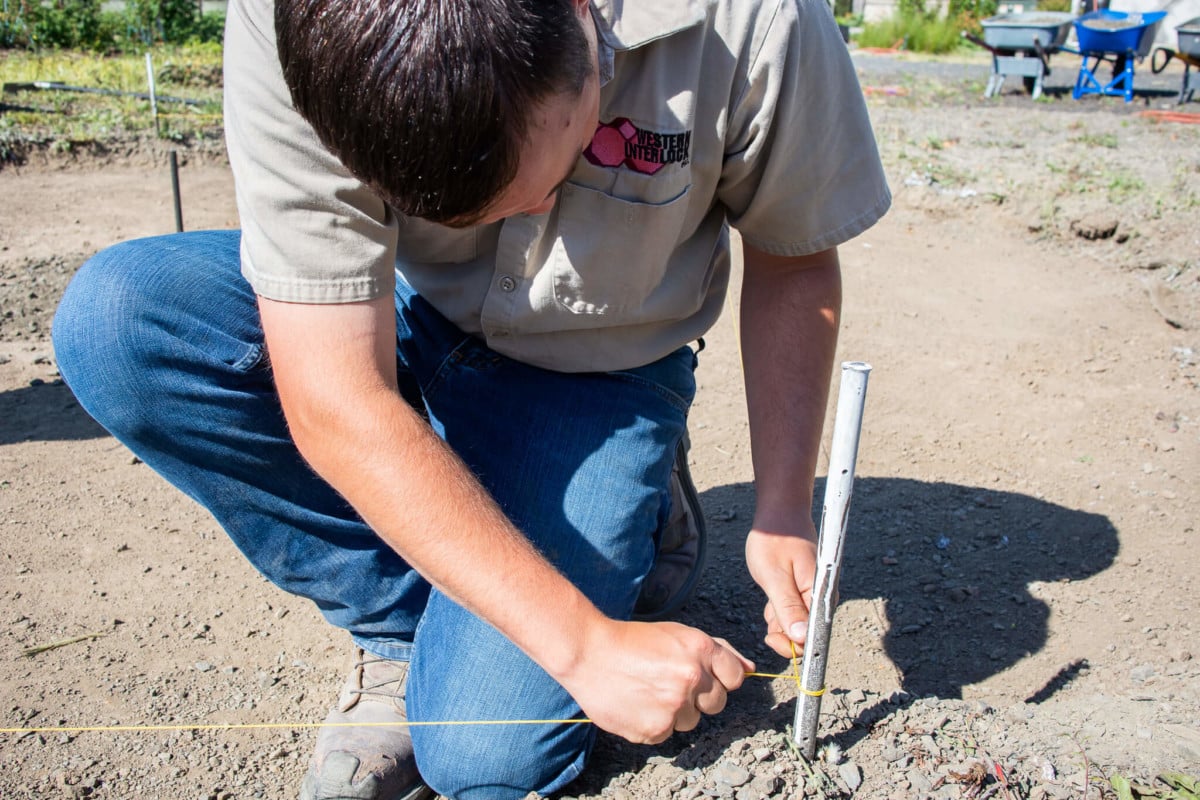 2. Establish a level base
After you get it close according to your eye, adjust your string to level using a string line level while still keeping it at the desired finished height.
3. Set your grade
Tie a second-string line from the highest point on your patio to the lowest point to define grade or "slope."
Adjust the string on the highest point on your slope to reflect our recommended 1¼" of fall per 10 feet of hardscape. Once you do this, you'll have set the grade. Now, install your hardscape according to the grade you've established.
What if grading doesn't work?
If you have an extremely wet climate, poor soil percolation, or an external water source draining on to your patio, grading may not cut it. In other words, just because you set an incredible grade doesn't mean drainage won't puddle up somewhere else in your yard or garage.
Depending on the amount of water drainage, you might want to consider installing a mechanical pump, retention pond or dry well. You could also install permeable pavers. These unique pavers direct water back into the ground to help control pooling and eliminate the need for any additional drainage systems in your hardscape.
Take the hard out of hardscaping
Here at Western Interlock, we're on a mission to take the hard out of hardscaping. That's why we publish DIY tips, tricks, and step-by-step tutorials at DIYwithWI.com.