If you are getting ready to lay stepping stones for a path around your house or in your garden, you may have some questions you would like to have answered before you jump into the project.
In this article, you'll find answers to five of the most common questions we get as our customers begin the process of DIY-ing a stepping stone path.
1. What shape should stepping stones be?
"What shape of stones should I use for my path?" This is one of the first questions we are usually asked.
While several different shapes of stones can be used for stepping stone paths, you should consider a few things before you decide.
Straight-edged
If you are primarily looking for an easy installation process, you will want to choose a square and straight-edged stone. The more court and straight they are, the easier it is to install them. Straight edges also lend themselves to a clean and modern look.
Rough-hewn
Many opt to use flagstone or bluestone to create a more rough look for their path. While this can make installation a bit more complicated, it can also create a more casual or pleasant old-world look.
2. Where should I place paver stepping stones?
"Where should I place my new path?"
Stepping stones work perfectly in a variety of places. You can use them to make walkways to your front and back doors or patios and for lawn and garden paths.
You also can use stepping stones as hardscapes in sitting areas to make a charming patio.
3. What do I need to know about installing paver stepping stones at home?
"So, can I install paver stepping stones? What do I need to know to start?"
Yes, you can just get started and install your stepping stones! However, there are a few things to know before you get going.
Easy to install
Stepping stones are relatively easy to install compared to other pavers. The patterns are more forgiving, and you can be flexible with the style and spacing.
Start with a solid base
One of the main things you need to know as you start is that you need to make sure you have a solid base to lay your pavers onto. Make sure you read up on how to dig out and lay a base that will guarantee the pavers will not shift.
Ensure even spacing
While you can be flexible in how you pattern your stepping stones, you must ensure that the spacing will work comfortably, fitting your natural stride. Test it out on a couple of different family members to make sure you all land on the stepping stones when you need to, and you don't have to jump to make it to the next one.
4. How far apart should they be?
"How far apart should I lay the stones for my path?"
There are a few different rules for paver spacing. One is the 24" rule—two pavers in every 24" space. The other is the 2×4 method.
You also can decide to lay them custom-spaced, according to what feels good to you and works well with your stride.
5. What should I put between the pavers?
"What do I put in the spaces between the pavers?"
You can choose a space filler that makes the most sense with your space and landscaping style. Grass or another ground cover works well to fill in the gaps between the stones. 
If you are going with more of a desert aesthetic, you could opt to use rock or sand between them.
6. What should I put under them?
"What kind of material should I put under the stepping stones?"
The base of your path significantly affects how reliable your stones will be. After digging out the area for the base, you should place a 6" gravel base.
After the gravel, use sand or mortar as the bed so the pavers will be level and avoid slipping or sliding around.
7. Why use stepping stones and not a solid pathway?
"What are the advantages of using stepping stones and not a solid pathway?"
Common Expense
You will find several benefits when you opt for the stepping stone style! One significant advantage is that using stepping stones will save you money since you will use fewer materials.
Natural Garden Drainage
You will also have better drainage if you use stepping stones. The natural elements of dirt, sand, and grass around your stones will help them drain naturally.
Stone Beauty and Design
Another great benefit of using stepping stones: is beauty. Implementing stepping stones allows for variety in texture and design. They will help accentuate the natural beauty of your landscaping.
8. What kind of pavers are best to use?
"So, what kind of pavers are the best for my path?"
Many use bluestone, granite, or travertine pavers for dirt or garden beds. They usually do this because they imagine that sand-set pavers might decay or break down over time.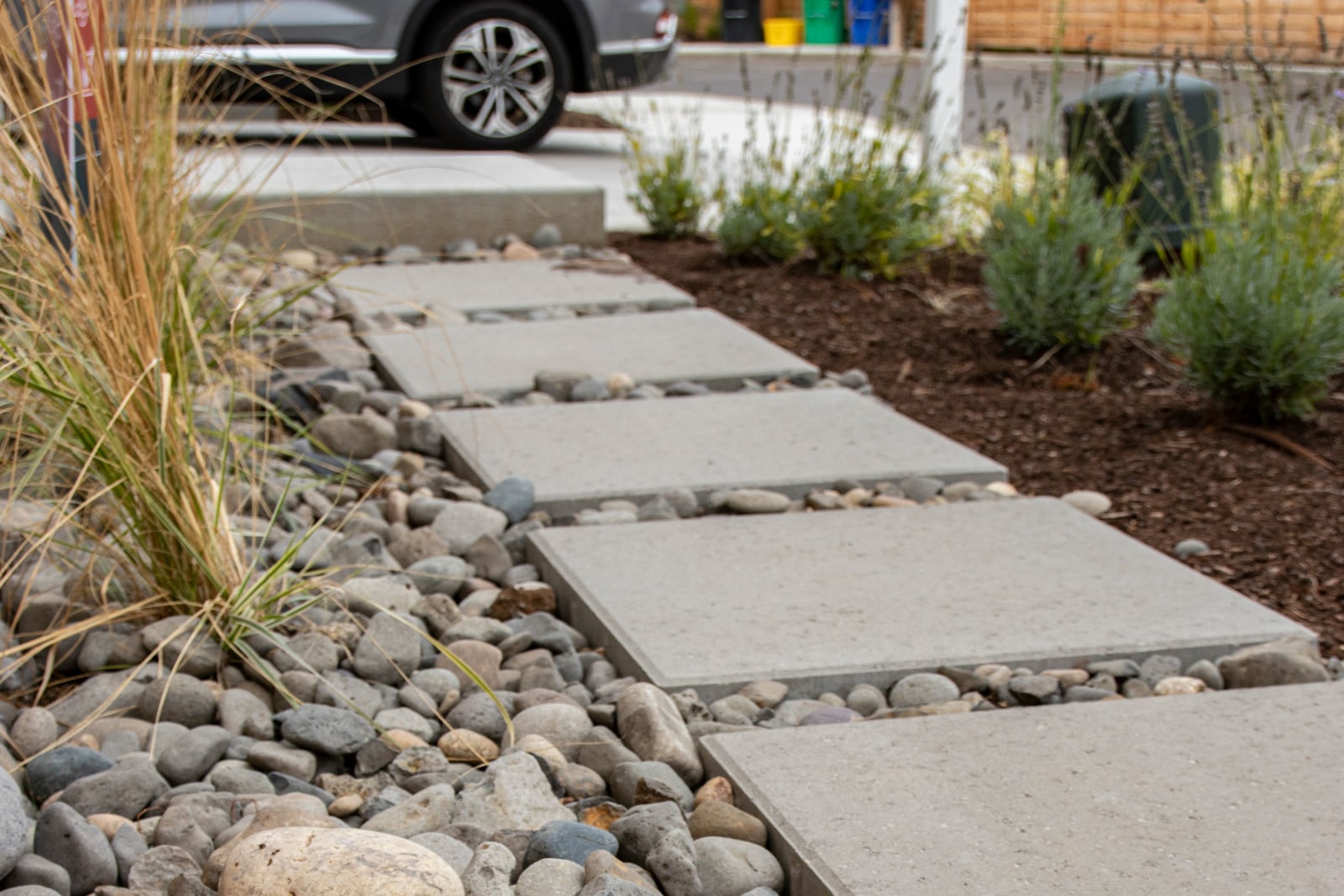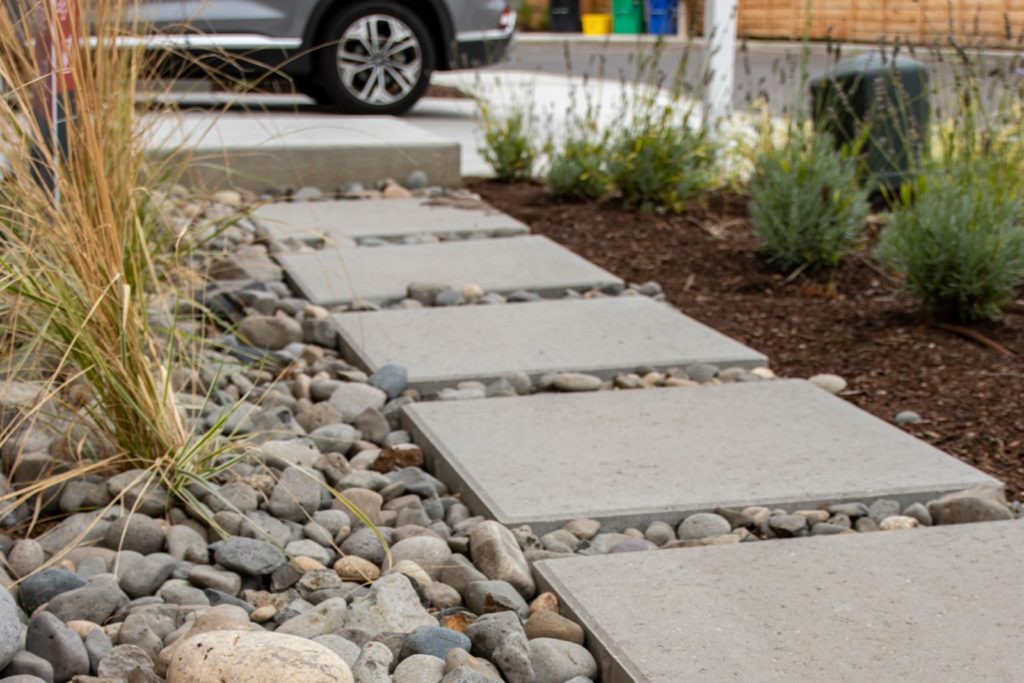 This assumption is not correct! If you place your stones correctly with a gravel base and a proper sand or mortar bed, you will not risk breaking down from the moist, mineral material of your soil.
Any paver will work great for your stepping stone path—choose whatever style and size you prefer.
9. Can I DIY, or do I need to hire a professional?
"Can I easily lay stepping stones by myself, or should I hire a contractor?"
The answer to this question is simple: you can easily DIY your stepping stones! Laying stepping stones is one of the easiest DIY projects.
However, you can hire a professional if you want to save time and effort. They have the tools and experience to lay the stepping stones efficiently.
10. What does landscape cost?
"What does it cost to lay stepping stones?"
The answer to this common question depends almost entirely on your space, how you will use your walkway, and how many stones you will use. A few short steps might cost $50-$150, depending on the tools and materials that are available to you.
Depending on available resources, a 20' walkway could cost $250-$500.
If you want to install a much larger section of stepping stones, such as a seating area or long walkway, it might cost you $500-$1000.
Download our paver project planning guide
If you are ready to start laying your paver walkway, download our free Project Planning Guide to begin confidently.