Not only are our pavers made from an independent family-owned business, but they're also intentionally made for the Northwest, in the Northwest.
Today we've set out to answer a common question we get from customers: What are Non-Stock Pavers? We'll answer that by providing an explanation as well as highlighting three unique non-stock pavers that many of our customers have come to love.
Pro Tip: If you're planning your next paver project, learn how to install and maintain hardscape by yourself in our step-by-step tutorials at DIY with WI.
What are non-stock pavers?
Non-stock pavers are just that . . . paving stones that we don't keep in stock or on hand. The reason is because we rotate inventory and non-stock pavers are products or colors that are more unique. It doesn't mean they are lacking in quality or beauty—in fact, they're often superior!
However, non-stock pavers are just a bit more unique and so it takes a special type of person to seek out non-stock pavers for their paver project. If you're reading this, that might be you?
3 unique non-stock pavers
Below, we're going to highlight four unique non-stock pavers that most people don't know about. It's our hope that this article will give you a few more options for your next project.
Villa Stone
Villa Stone is a unique stone with interesting design possibilities. Its unique combination of longer length and narrower width, combined with its flat, well-defined surface makes it a durable modern classic.
Villa Stone's length makes for easy straight lines and its 100mm thickness makes it perfect for driveways, sidewalks, borders, and mow strips. This linear paver lends a contemporary touch to any landscape design.
Symmetry Stone
Symmetry Stone is comprised of a unique diamond shape with a square attached to one of the angles. You can lay 12 unique patterns with it, especially when combined with our 6"x6" in City Square, from simple lay-ups too intricate Venetian parquet patterns.
If any paving stone can come close to the beauty and intricacy of wood or tile flooring, Symmetry Stone is it.
Octo Stone
Octo Stone is a unique shape combining an octagon with a small square, creating a pleasing combination. If you've seen the Western Interlock logo, you've seen an Octo Stone.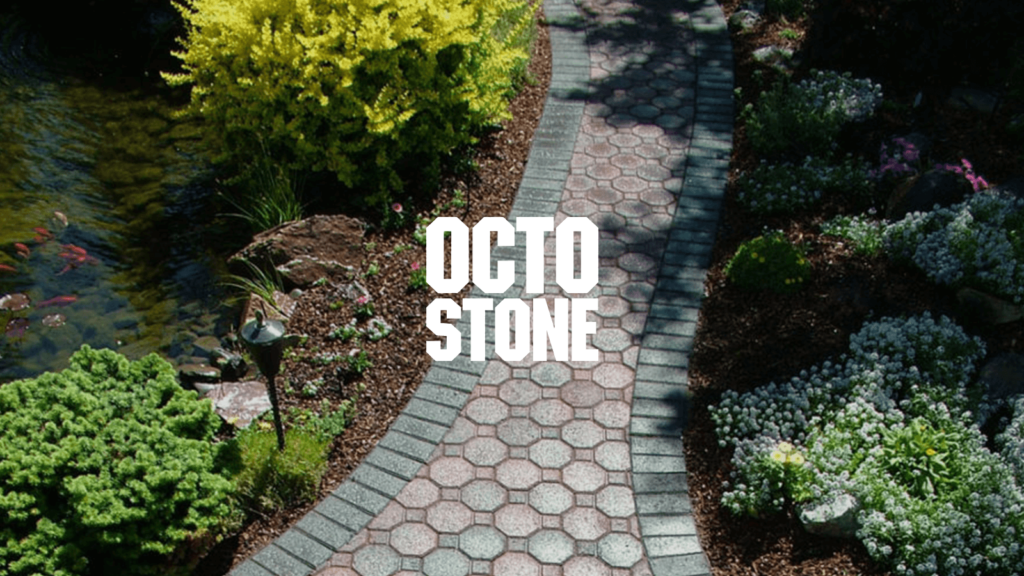 To facilitate laying along an edge, an Octo Stone Edger is available. Other paving stones may be laid around the perimeter to enhance the appeal.
Round Roca Stone
Roca Rotundo Stone is an attractive circle system that provides either a beautiful stand-alone circular patio or intriguing inlaid patterns with other pavers. Roca Rotundo Stone has a rustic tumbled surface and is available in the same colors of Cobble Rotundo Stone.
How to order non-stock pavers
The best way to order non-stock pavers is to visit our manufacturing facility and hold each paver in your hands in Rickreall, OR, visit our distribution facility in Olympia, WA, or call our on-call hardscape experts at 503-623-9084.
That way, our helpful staff can answer any questions in-person or over the phone before you commit to making an order.
Get started on your paver project
Want to learn more about how to start and finish your hardscape project? Watch our step-by-step tutorials online, join one of our upcoming seminars, or give us a call at 503-623-9084.