Are you laying large pavers, slabs, or stepping stones on your patio or other outdoor living space? If so, keep reading. This blog post is to help DIYers as you handle and lay large pavers like a pro.
Everyone loves large format pavers. They are bold and expansive, yet also simple. They have a heavier footprint, making a smaller area feel more significant. Large pavers are perfect for outdoor living spaces like pool decks, kitchens, and walkways.
How to lay large pavers
First, look at the ten steps before you lay your pavers. (Read How to Install Pavers for a more in-depth look at each stage.)
Design: First, create a plan and decide on a pattern for your project. Remember that using large pavers will make the space seem bigger since large pavers have a more open and expansive style.
Layout: Use white marking paint to create a sketch on the ground for where you will lay out your pavers.
Square: Create a 90° triangle with a stake and string for a solid project anchor point.
Set grade: Use a level line to grade your base so water will run off properly.
Excavate: Remove any dirt and debris from your base. You should excavate approximately 4" to 6" for foot traffic areas or 12" for driveways or any type of surface that needs a lot of weight. Make sure the ground is well compacted so it will not shift in the future.
Set base: Your base should begin with geotextile fabric. Geotextile fabric is highly recommended in areas of heavy traffic, such as driveways, to prevent soil movement beneath the pavers. On top of the geotextile fabric, lay 3/4" minus gravel and compact it to 3" below where your pavers will lay.
Screed sand: Lay sand and use a screed board to smooth and level it. For large pavers, 1/4"-10 crushed rock is often a better base; it is more rugged (less fragile) and has better drainage.
Lay the stones: Start at the 90° corner and lay your pavers using the click-and-drop method. Make sure each paver is on the same level as the one next to it because even a slight height difference is enough for someone to trip while walking on your pavers.
Install edge restraint: We recommend SnapEdge to keep your paver edges in place. After it is installed, cover it with sand or dirt so it does not warp.
Finish: To finish laying your pavers, sweep polymeric sand into the joints and wet it. Your paver project is completed!
Answers to common questions about laying large pavers
Can I lay large pavers by myself?
You should find a friend to help you. Large-format pavers are heavy and difficult for a single person to lift.
Are there any tools to help me lay large pavers?
Consider buying or renting paver lifter tools like a SlabGrabber or SlabHandler. They're not cheap, but if you're laying a few dozen pavers, your back and hands will thank you!
How do you place large pavers while installing?
Click and drop your pavers; don't drop and drag. Ensure you place pavers directly in place without dragging them along your bedding. Dragging turns your paver into a bulldozer, resulting in a very uneven project.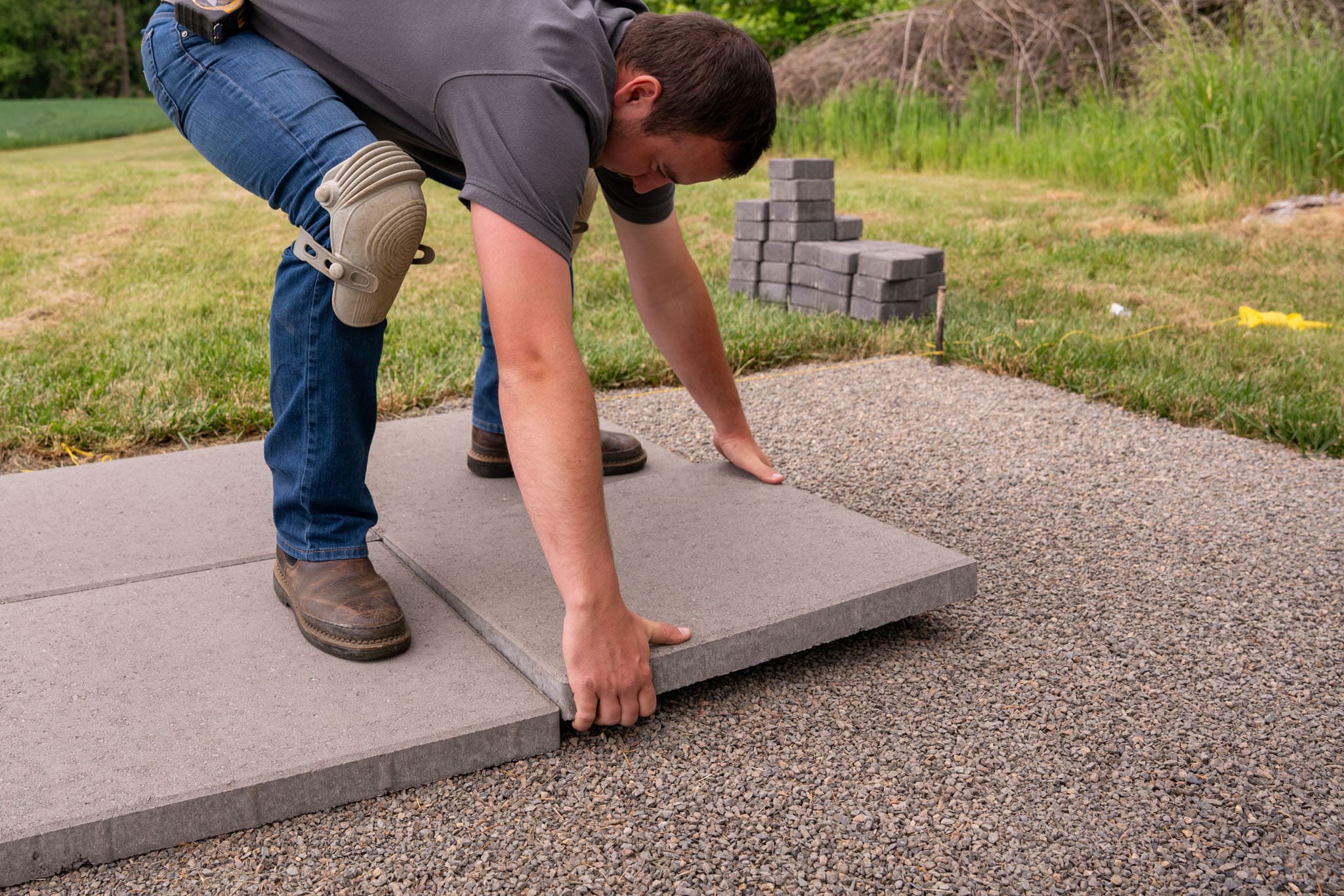 Anything else I need to know about laying large pavers?
Large pavers can cause injury if you slip or drop any while laying them. Don't forget to wear personal protection equipment (PPE) such as gloves, long sleeves, and safety glasses to ensure you stay safe.
Download our free planning guide
If you're ready to start laying pavers but need help planning your project, we have a free resource. Download our free Project Planning Guide to prepare your large paver project best.